Fuad Karimov's daily comment: USD/CAD chart review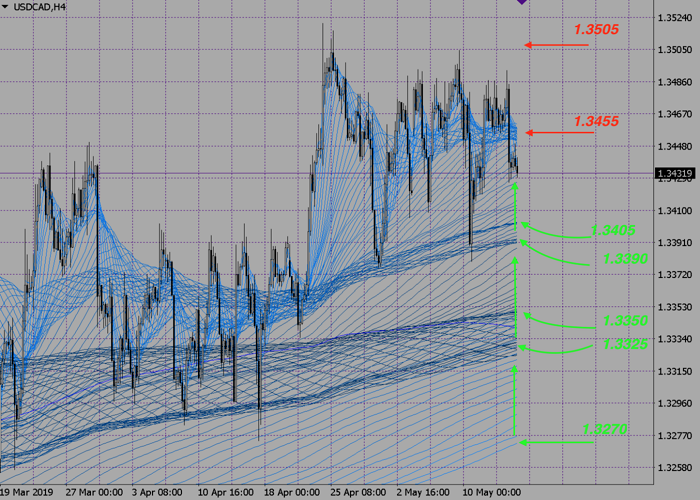 With the US-China trade tensions affecting the rise in crude prices, the USD/CAD pair consolidates around 1.3440 ahead of today's markets opening. The pair was unable to overcome the 1.3505 barrier for almost a month now. The uncertainty over the US-China trade dispute is the key factor containing — and likely for a longer time — the move of greenback and markets in general.
On Thursday, manufacturing shipments and ADP employment change data from Canada will be the main headlines possibly giving a new impulse to USD/CAD movement.
USD/CAD H4 chart
The 4-hour chart does not give much hint on further direction, however, plenty of support clusters below current price suggests that there are few convenient bounce trades opportunities.
The important dual support cluster is at 1.3390-1.3405 and this where we like to place our Buy limit orders. This type of trade always rely on the split exposure, therefore, we will add to the position at 1.3325-1.3350 support area and the last bastion of our long trade is at 1.3270. Price is likely to go downside and reverse from one or several of those key supports and this scenario adds to our trade edge.
Resistance levels to watch are 1.3455 and 1.3505 which will further contain upside move. If price breaks above, this will invalidate our trade scenario.
Have a nice day.
About us
Risk Warning. Trading on financial markets carries risks. Contracts for Difference ('CFDs') are complex financial products that are traded on margin. Trading CFDs carries a high level of risk since leverage can work both to your advantage and disadvantage. As a result, CFDs may not be suitable for all investors because you may lose all your invested capital. You should not risk more than you are prepared to lose. Before deciding to trade, you need to ensure that you understand the risks involved taking into account your investment objectives and level of experience. Click here for our full Risk Disclosure.
Our company's service is not provided to the citizens (residents) United States of America, Canada, Israel, Belgium, Japan and the Republic of Vanuatu and citizens of any state or country where the service is not made available.
This site contains basic information that is relevant to the following companies:

- Tifia Markets Limited is licensed as a "Dealer in Securities" (registration number 40209) by the "Ministry of Finance and Economic Management" and regulated in accordance with the "Dealers in Securities (Licensing) Act [CAP.70]" of the Republic of Vanuatu. The Company address: Govant Building, BP 1276 Port Vila, The Republic of Vanuatu.