WTI Crude Oil: general analysis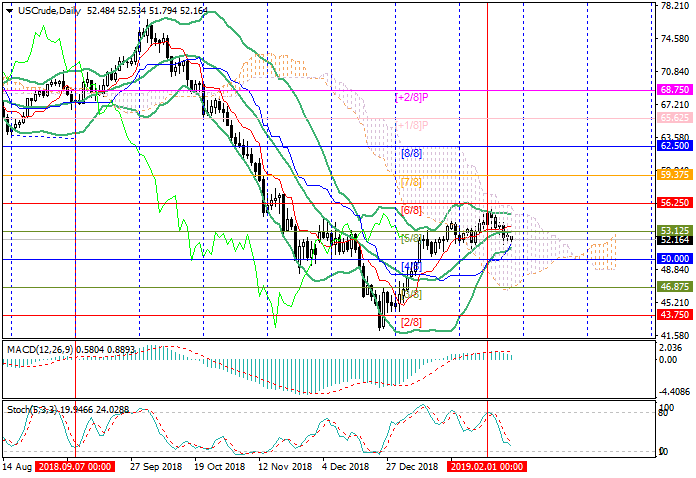 Current trend
Last week, the oil price lost about 4.9% and is now trading around 52.40. In addition to the growth of American reserves of "black gold", the quotations were negatively affected by investors' concerns about the trade negotiations between the PRC and the United States. Earlier, President Donald Trump stated that he would not enter into a major trade deal with China before discussing it with Chairman Xi Jinping again. On Friday, it became known that there would be no meeting of the leaders until March 1, which means that the transaction will also not be signed within these terms, and the threat of a new increase in American export duties remains. This week, US-China trade negotiations will continue in Beijing but their prospects are vague.
The instrument is under additional pressure by Baker Hughes Oil Rig Count, which increased from 847 to 854 units.
Support and resistance
The price fell below 53.12 (Murrey [5/8], the middle line of Bollinger bands) and may continue to decline to the levels of 50.80 (Murrey [1/8], H4) and 50.00 (Murrey [4/8]). After the consolidation above the level of 53.12, the gain to the level of 56.25 is possible (Murrey [6/8]). This variant of movement seems less likely because the MACD histogram decreases in the positive zone and Stochastic is directed downwards.
Resistance levels: 53.12, 56.25.
Support levels: 50.80, 50.00.
Trading tips
Short positions can be opened from the level of 52.00 with the targets at 50.80, 50.00 and stop loss 53.00.
Long positions can be opened from the level of 54.00 with the target at 56.25 and stop loss around ​​53.20.
Implementation period: 4–5 days.
Scenario
| | |
| --- | --- |
| Timeframe | Weekly |
| Recommendation | SELL STOP |
| Entry Point | 52.00 |
| Take Profit | 50.80, 50.00 |
| Stop Loss | 53.00 |
| Key Levels | 50.00, 50.80, 53.12, 56.25 |
Alternative scenario
| | |
| --- | --- |
| Timeframe | Weekly |
| Recommendation | BUY STOP |
| Entry Point | 54.00 |
| Take Profit | 56.25 |
| Stop Loss | 53.20 |
| Key Levels | 50.00, 50.80, 53.12, 56.25 |
About us
Risk Warning. Trading on financial markets carries risks. Contracts for Difference ('CFDs') are complex financial products that are traded on margin. Trading CFDs carries a high level of risk since leverage can work both to your advantage and disadvantage. As a result, CFDs may not be suitable for all investors because you may lose all your invested capital. You should not risk more than you are prepared to lose. Before deciding to trade, you need to ensure that you understand the risks involved taking into account your investment objectives and level of experience. Click here for our full Risk Disclosure.
Our company's service is not provided to the citizens (residents) United States of America, Canada, Israel, Belgium, Japan and the Republic of Vanuatu and citizens of any state or country where the service is not made available.
This site contains basic information that is relevant to the following companies:

- Tifia Markets Limited is licensed as a "Dealer in Securities" (registration number 40209) by the "Ministry of Finance and Economic Management" and regulated in accordance with the "Dealers in Securities (Licensing) Act [CAP.70]" of the Republic of Vanuatu. The Company address: Govant Building, BP 1276 Port Vila, The Republic of Vanuatu.