Fuad Karimov's daily comment: S&P500 — sell now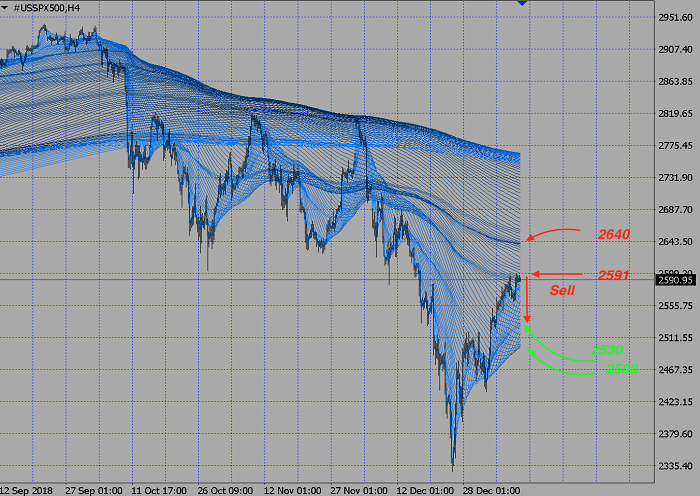 Friday again and the main macro news today is US December CPI data which will set the course for today's US trading session. In my last Friday SP500 review I recommended to initiate long positions based on assumption that NFP reading expected to be fantastic, market is still oversold and Fed is becoming more dovish. Well, the trade was good and now, a week later it is likely that it is time to close longs.
Today's Asian session was positive following previous night US session as US-China trade talks are set to continue.
However, based on my technical view, I believe this rally is about to fade away.
SP500 index H4 chart
Price is at 2591.00 currently — and this level sustained a strong support during October-December sell-off and now it is (in theory!) a strong resistance level. Besides, it is serious levels cluster where I would prefer to sell now. Another strong resistance area is at 2640.00 and I will scale into my short position should the price has another impulse up.
This down move is likely to be contained below at 2530.00 and 2500.00 supports — close your shorts and enter longs again at those levels.
Have a nice weekend and safe trades!
About us
Risk Warning. Trading on financial markets carries risks. Contracts for Difference ('CFDs') are complex financial products that are traded on margin. Trading CFDs carries a high level of risk since leverage can work both to your advantage and disadvantage. As a result, CFDs may not be suitable for all investors because you may lose all your invested capital. You should not risk more than you are prepared to lose. Before deciding to trade, you need to ensure that you understand the risks involved taking into account your investment objectives and level of experience. Click here for our full Risk Disclosure.
Our company's service is not provided to the citizens (residents) United States of America, Canada, Israel, Belgium, Japan and the Republic of Vanuatu and citizens of any state or country where the service is not made available.

- Tifia Markets Limited is licensed as a "Dealer in Securities" (registration number 40209) by the "Ministry of Finance and Economic Management" and regulated in accordance with the "Dealers in Securities (Licensing) Act [CAP.70]" of the Republic of Vanuatu. The Company address: Govant Building, BP 1276 Port Vila, The Republic of Vanuatu.