The Home Depot Inc. (HD/NYSE): general analysis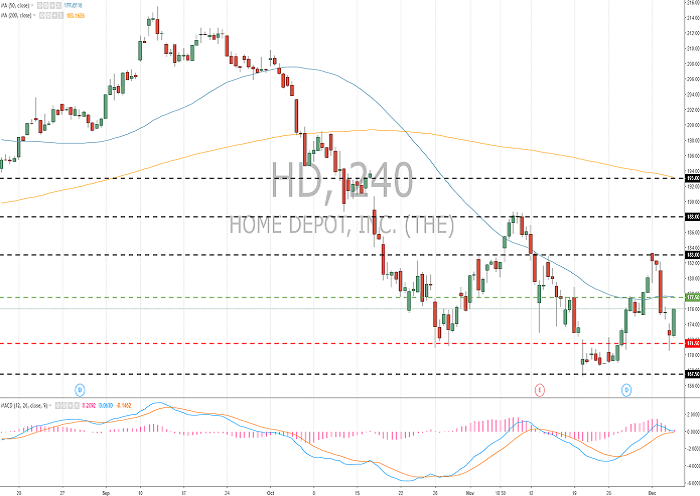 Current trend
Shares of The Home Depot are trading at a premium of 4.2% to a 52-week low of November 23. Since the beginning of the year, quotes have lost more than 7%. Earlier, on November 13, the company reported for 3 quarter of 2018 above market expectations, and also increased its revenue and profit forecast for 2018. Earnings per share increased by 36% YoY due to the effect of tax reform. Revenue increased by 5.1% against the last year's value.
During the last week, The Home Depot decreased by 0.83% against the decrease of the S&P 500 index by 1.76%.
Support and resistance
The company's shares have developed an ambiguous technical picture. The instrument is trading flat. At the moment, the local levels of support and resistance are 171.50 and 177.50. There is a potential for recovery. Indicators do not give clear signals: the price approached the MA (50), which is a strong dynamic resistance; the MACD histogram is near the zero line. It is better to open the positions from the key levels.
Comparative analysis of the multipliers of the company and competing companies indicates the neutrality of #HD.
Resistance levels: 177.50, 183.00, 188.00.
Support levels: 171.50, 167.50, 163.00.
Trading tips
Long positions can be opened after the price is fixed above the level of 177.50. The closing of the profitable positions is possible at the levels of 182.00, 186.00 and 190.00. Stop loss is 173.00.
Short positions can be opened after the price is set below the level of 171.50 with the targets at 164.00–160.00. Stop loss is 176.00.
Implementation period: 3 days.
Scenario
| | |
| --- | --- |
| Timeframe | Intraday |
| Recommendation | BUY STOP |
| Entry Point | 177.50 |
| Take Profit | 182.00, 186.00, 190.00 |
| Stop Loss | 176.00, 173.00 |
| Key Levels | 163.00, 167.50, 171.50, 177.50, 183.00, 188.00 |
Alternative scenario
| | |
| --- | --- |
| Timeframe | Intraday |
| Recommendation | SELL STOP |
| Entry Point | 171.45 |
| Take Profit | 164.00, 160.00 |
| Stop Loss | 176.00 |
| Key Levels | 163.00, 167.50, 171.50, 177.50, 183.00, 188.00 |
About us
Risk Warning. Trading on financial markets carries risks. Contracts for Difference ('CFDs') are complex financial products that are traded on margin. Trading CFDs carries a high level of risk since leverage can work both to your advantage and disadvantage. As a result, CFDs may not be suitable for all investors because you may lose all your invested capital. You should not risk more than you are prepared to lose. Before deciding to trade, you need to ensure that you understand the risks involved taking into account your investment objectives and level of experience. Click here for our full Risk Disclosure.
Our company's service is not provided to the citizens (residents) United States of America, Canada, Israel, Belgium, Japan and the Republic of Vanuatu and citizens of any state or country where the service is not made available.
This site contains basic information that is relevant to the following companies:

- Tifia Markets Limited is licensed as a "Dealer in Securities" (registration number 40209) by the "Ministry of Finance and Economic Management" and regulated in accordance with the "Dealers in Securities (Licensing) Act [CAP.70]" of the Republic of Vanuatu. The Company address: Govant Building, BP 1276 Port Vila, The Republic of Vanuatu.