Apr 9, 2020, 8:24:04 AM
AUD/USD: wave analysis
The pair is in correction; the probability of growth is maintained.
On the daily chart, the downtrend continues to develop as a wave of the higher level (C), as part of which a wave of 3 of (C) has formed. At the moment, local correction is developing as the fourth wave 4 of (C), as part of which the wave c of 4 is developing. If the assumption is right, the growth of the pair will continue to the levels of 0.6457–0.6682. The level of 0.5985 is critical and stop-loss for this scenario.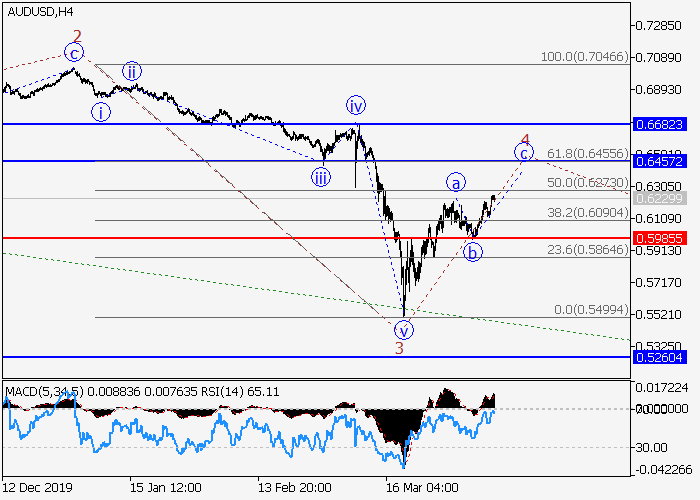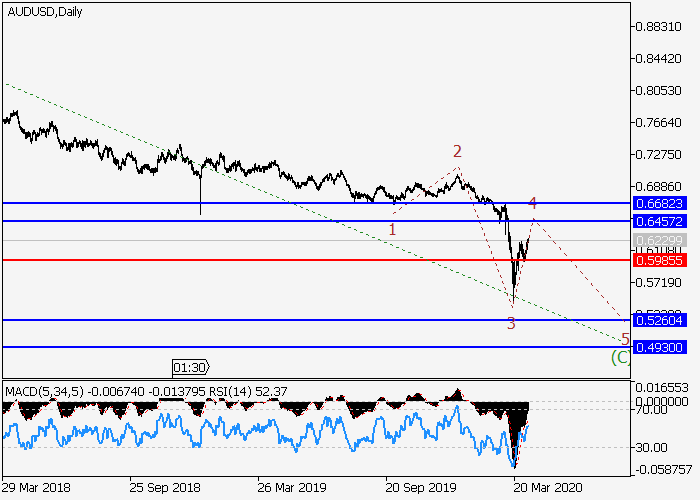 Main scenario
Long positions are relevant from the corrections above level of 0.5985 with targets at 0.6457–0.6682. Implementation period: 5-7 days.
Alternative scenario
Breaking down the level of 0.5985 and consolidation below it will allow the pair to continue reduction to the level 0.5260–0.4930.
Scenario
Timeframe

Weekly

Recommendation

BUY

Entry Point

0.6203

Take Profit

0.6457, 0.6682

Stop Loss

0.5985

Key Levels

0.4930, 0.5260, 0.5985, 0.6457, 0.6682
Alternative scenario
Timeframe

Weekly

Recommendation

SELL STOP

Entry Point

0.5980

Take Profit

0.5260, 0.4930

Stop Loss

0.6220

Key Levels

0.4930, 0.5260, 0.5985, 0.6457, 0.6682