Apr 9, 2020, 12:03:02 PM
WTI Crude Oil: general analysis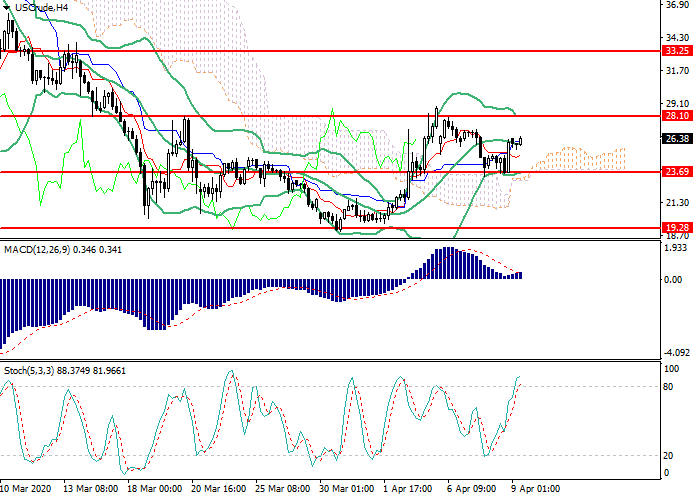 Current trend
Today, the movement of oil prices is insignificant. Market participants expect the results of the meeting of the largest exporters of "black gold". In April, the instrument rebounded from the multi-year lows, as Russia, Saudi Arabia, and the United States agreed to hold another round of negotiations in the OPEC+ format.
However, investor optimism has declined in recent days, as the Russian Federation and Saudi Arabia insist on the necessity to reduce production in the United States. However, the reduction in American production is almost impossible to coordinate since oil production is carried out by independent companies, and the impact on prices is limited by antitrust laws. Also, the Russian Federation is demanding that Brazil, Norway, and Canada join the reduction treaty, as they depreciated the efforts of OPEC+, replacing the reduction in market volumes with their oil.
Today at 16:00 (GMT+2), OPEC+ video conference is planned. The stabilization of the prices may take more than one round of negotiations, so market participants need to be careful.
Support and resistance
On the 4-hour chart, the instrument corrected towards Bollinger bands' MA. The indicator is directed sideways, and the price range is limited, which indicates the correction dynamics of the instrument. The MACD histogram does not give a signal to enter the market. Stochastic has entered the overbought zone; a strong sell signal is expected during the day.
Resistance levels: 28.10, 33.25, 37.66, 43.55.
Support levels: 26.00, 23.70, 19.30, 18.00.
Trading tips
Long positions may be opened above 29.15 with the target at 34.20 and stop loss 25.80.
Short positions may be opened below 23.70 with the target at 19.60 and stop loss 25.80. Implementation period: 1–2 days.
Scenario
Timeframe

Intraday

Recommendation

BUY STOP

Entry Point

29.20

Take Profit

34.20

Stop Loss

25.80

Key Levels

18.00, 19.30, 23.70, 26.00, 28.10, 33.25, 37.66, 43.55
Alternative scenario
Timeframe

Intraday

Recommendation

SELL STOP

Entry Point

23.65

Take Profit

19.60

Stop Loss

25.80

Key Levels

18.00, 19.30, 23.70, 26.00, 28.10, 33.25, 37.66, 43.55