Apr 8, 2020, 8:55:31 AM
Brent Crude Oil: awaiting OPEC+ decision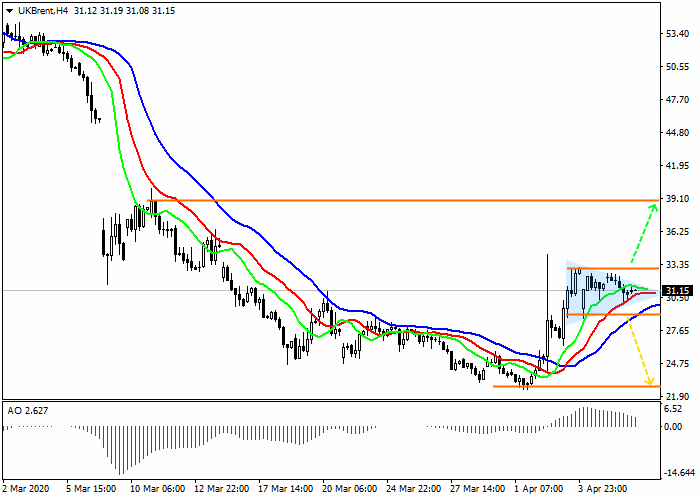 Current trend
Oil prices continue to trade within a narrow sideways range of 32.50–30.50 before the OPEC+ meeting on Thursday.
The tension around the asset is growing, and investors won't form new positions, so the trading volumes are the lowest in the last month.
Finally, the issue of the date of the emergency meeting of OPEC+ is known: it will be held on April 9. Russia and Saudi Arabia officially confirmed their participation. Most experts expect a possible reduction in production by 10 million barrels per day but representatives of the Russian Federation are set for a more significant decrease, up to 15 million barrels. However, a decrease in production can affect the market only in the long term, and now oil reserves in storage facilities are reaching critical values ​​and are increasing every week. According to yesterday's API data, they reached 11.938 million, which is significantly higher than the expected 9.300 million.
Support and resistance
The local "Triangle" pattern forms and trading volumes are so small that the indicators practically do not change their readings. The AO oscillator is most accurate, being above the zero line with a slight downward trend. The spread between Brent and WTI Crude Oil suddenly reached $7, and the price may move at any time.
Resistance levels: 33.00, 39.00.
Support levels: 29.00, 22.80.
Trading tips
After the implementation of the pattern upwards and growth or consolidation above 33.00, purchase positions with the target at 39.00 will be relevant. Stop loss is at the lower border of the pattern, around 30.00.
After the implementation of the pattern downwards and decline or consolidation below the local minimum around 29.00, it is important to open sell positions with a target at 22.80. Stop loss – 32.00.
Implementation period: 5 days.
Scenario
Timeframe

Weekly

Recommendation

BUY STOP

Entry Point

33.00

Take Profit

39.00

Stop Loss

30.00

Key Levels

22.80, 29.00, 33.00, 39.00
Alternative scenario
Timeframe

Weekly

Recommendation

SELL STOP

Entry Point

29.00

Take Profit

22.80

Stop Loss

32.00

Key Levels

22.80, 29.00, 33.00, 39.00