Apr 6, 2020, 9:33:29 AM
Brent Crude Oil: oil prices recover
Current trend
Today, during the Asian session, oil prices grow, despite the opening with a negative gap. Now, the instrument tries to consolidate above 32 dollars per barrel and approaches local highs, renewed last Thursday. Positive dynamics is due to the improving prospects for concluding a new agreement on OPEC+ production limitation. Last week, the US President Donald Trump said that after a conversation with Russian President Vladimir Putin and Crown Prince of Saudi Arabia Mohammed bin Salman, the parties agreed to an unprecedented reduction in world production by 10 million barrels per day. Later it became known that Russia is ready to reduce only by 1 million barrels and only with the participation of the US.
OPEC+ video conference, which was originally scheduled to take place on Monday, is expected this week. It is predicted that the parties may come to some kind of decision but the skepticism in the mood of analysts is very high.
Support and resistance
On the daily chart, Bollinger bands grow slightly. The price range expands but not as fast as the "bullish" moods develop. MACD grows, maintaining a strong buy signal (the histogram is above the signal line). Stochastic grows but reaches its highs, indicating that the instruments may become overbought in the ultra-short term.
It is better to keep the current long positions until the situation becomes clear.
Resistance levels: 34.22, 37.00, 40.00, 42.50.
Support levels: 31.64, 30.00, 28.69, 27.00.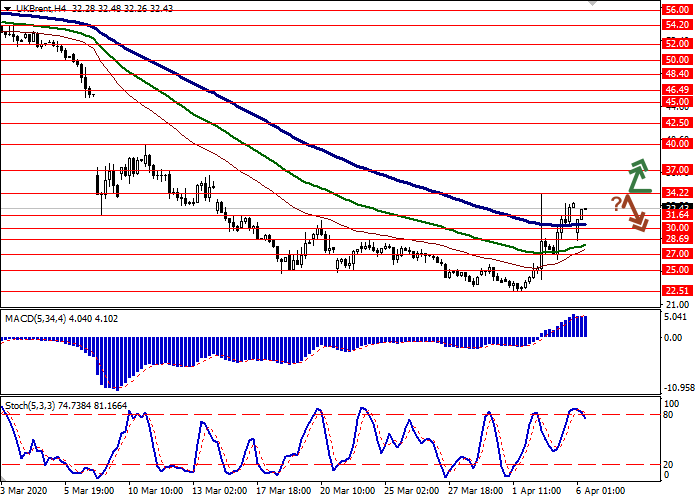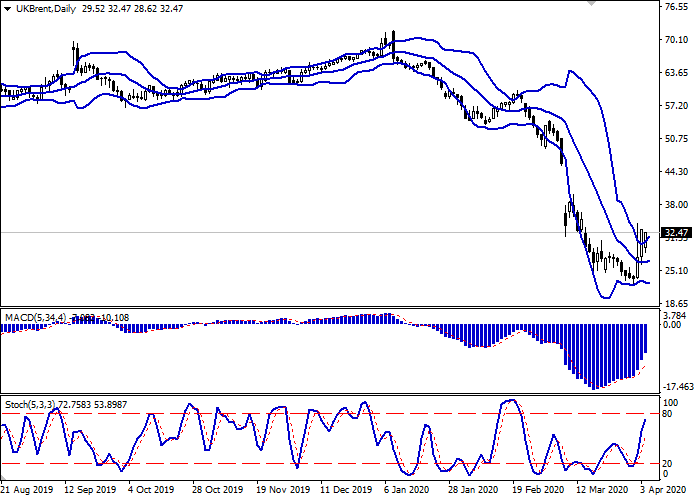 Trading tips
Long positions may be opened after the breakout of 34.22 with the target at 40.00 or 42.50. Stop loss – 30.00.
Short positions may be opened after a rebound from 34.22 and a breakdown of 31.64 or 30.00 with the target at 25.00. Stop loss – 34.00 or 35.00.
Implementation period: 2–3 days.
Scenario
Timeframe

Intraday

Recommendation

BUY STOP

Entry Point

34.25

Take Profit

40.00, 42.50

Stop Loss

30.00

Key Levels

27.00, 28.69, 30.00, 31.64, 34.22, 37.00, 40.00, 42.50
Alternative scenario
Timeframe

Intraday

Recommendation

SELL STOP

Entry Point

31.60, 29.95

Take Profit

25.00

Stop Loss

34.00, 35.00

Key Levels

27.00, 28.69, 30.00, 31.64, 34.22, 37.00, 40.00, 42.50