Brent Crude Oil: oil prices recover
Current trend
Today, during the Asian session, oil prices are growing moderately, continuing to develop the "bullish" momentum formed yesterday. The instrument also retreats from its local lows since October 21, 2019, which were renewed as a result of a five-day last week's decline. The quotes were supported by OPEC statements that the terms of the contract to reduce energy production could be further tightened due to lower demand amid the spread of coronavirus. An additional "bullish" signal for "black gold" was the published report of the American Petroleum Institute on oil reserves. For the week of January 24, the figure fell by 4.27 million barrels after rising by 1.6 million barrels over the past period.
On Wednesday, investors are focused on the US Federal Reserve meeting on the interest rate and the official report on oil reserves from the US Department of Energy.
Support and resistance
On the daily chart, Bollinger bands are steadily declining. The price range is expanding but not as fast as the "bearish" moods develop. The MACD indicator maintains a downward direction and a poor sell signal (the histogram is below the signal line). Stochastic is reversing upwards near the zero line, indicating that the instrument is oversold in the ultra-short term.
A of developing large-scale upward correction is possible in the short term.
Resistance levels: 60.84, 61.29, 62.00, 62.95.
Support levels: 60.00, 59.00, 58.49, 57.57.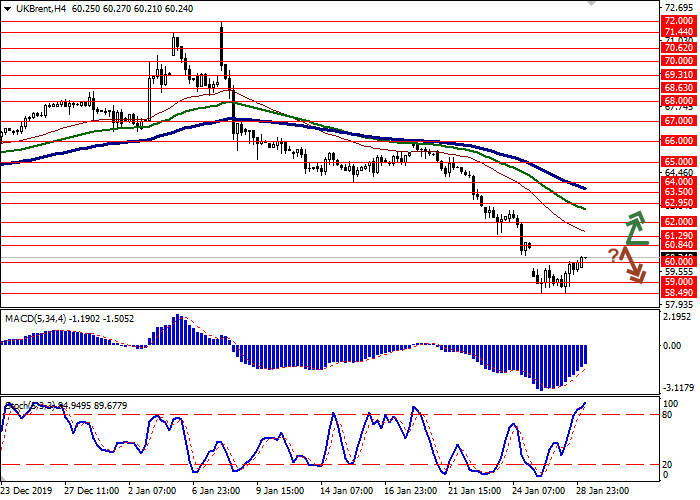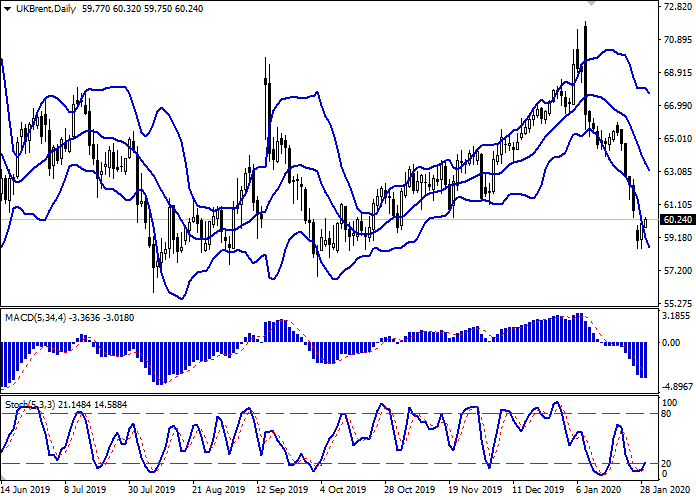 Trading tips
Long positions may be opened after the breakout of 60.84 or 61.29 with the target at 62.95 or 63.50. Stop loss – 60.00.
Short positions may be opened after a rebound from 60.84 and a breakdown of 60.00 with the targets at 58.49–58.00. Stop loss – 61.00.
Implementation period: 2–3 days.
Scenario
Timeframe

Intraday

Recommendation

BUY STOP

Entry Point

60.85, 61.30

Take Profit

62.95, 63.50

Stop Loss

60.00

Key Levels

57.57, 58.49, 59.00, 60.00, 60.84, 61.29, 62.00, 62.95
Alternative scenario
Timeframe

Intraday

Recommendation

SELL STOP

Entry Point

59.95

Take Profit

58.49, 58.00

Stop Loss

61.00

Key Levels

57.57, 58.49, 59.00, 60.00, 60.84, 61.29, 62.00, 62.95