WTI Crude Oil: general analysis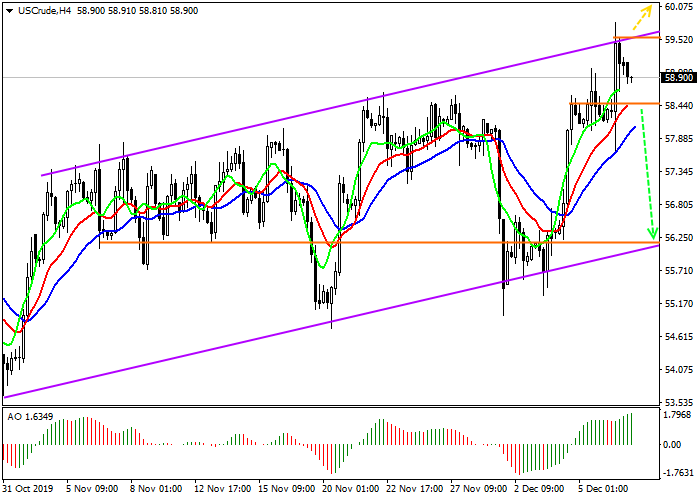 Current trend
In the middle of last week, data on crude oil inventories were published, which unexpectedly showed a decrease of –4.856M against –1.734M expected. The data reversed the long-term trend of increasing stocks and gave a positive impetus to the instrument. Also, the spread in the arbitration position of WTI Crude Oil and Brent again returned to the average values ​​of the year around $6, which indicates the completion of the global operation and the start of a new one.
Positive news finally came from the United States: the unemployment rate fell from 3.6% to 3.5%, which was very positively accepted by the market after two weeks of negativity. Thus, investors wait for the sideways dynamics in the asset to develop this week.
Support and resistance
Despite active growth last week, the asset could not overcome the resistance line of the long-term channel and remains inside it. A decrease in trading volume and growth potential may indicate an imminent reversal and movement to the support line. Despite the fact that the Alligator indicator continues to keep a steady buy signal, it is better to close the profitable positions and exit the asset.
Resistance levels: 59.50, 65.00.
Support levels: 58.40, 56.20.
Trading tips
In the case of a reversal and decrease in the asset of consolidation below the support level around 58.40, it is better to open sell positions with a possible target at 56.20. Stop loss is better to set above the local maximums, around 59.60.
If the asset continues to grow and the price consolidates above 59.50, buy positions with the target at 65.00 will be relevant. Stop loss is advisable to set below the support level, around 58.40.
Implementation period: 7 days or more.
Scenario
Timeframe

Weekly

Recommendation

SELL STOP

Entry Point

58.40

Take Profit

56.20

Stop Loss

59.60

Key Levels

56.20, 58.40, 59.50, 65.00
Alternative scenario
Timeframe

Weekly

Recommendation

BUY STOP

Entry Point

59.50

Take Profit

65.00

Stop Loss

58.40

Key Levels

56.20, 58.40, 59.50, 65.00