Apr 10, 2020, 8:49:24 AM
XAU/USD: gold again attracts investors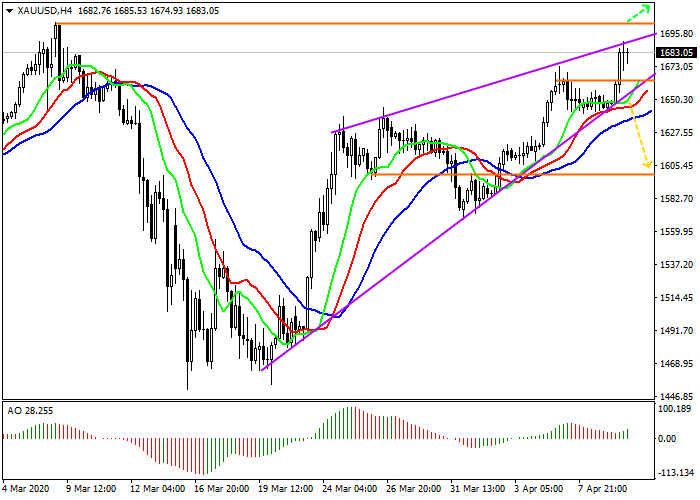 Current trend
Gold quotes continue to grow and during yesterday's trading session, it exceeded $1,680 per ounce.
As expected, the precious metals market is beginning to come to the fore. Risk assets fell significantly, and the measures taken by world central banks to fill the economy with monetary liquidity did not lead to their significant growth. Investors fear significant drops and even when they get new money they won't invest it back in declining assets since there is no guarantee that they will not fall again. The only instrument that has sufficient capacity and stability is gold – the "global repository" of free liquidity.
Yesterday, the US Federal Reserve announced a new package of support measures totaling $2.3 trillion. This money will go to the market, mostly to gold, which can continue to strengthen. This is confirmed by indicators from the Bureau of Exchange Statistics of the Commodity Futures Trading Commission, according to which last week, the number of net speculative positions was at high levels around 258.8K. This week, the number of positions may exceed 300K.
Support and resistance
The asset continues to grow steadily within the Wedge pattern. Now, the price reached the pattern's resistance line and can enter the consolidation stage. Technical indicators are in a state of global buy signals, which reflects a further growth possibility.
Resistance levels: 1700.0, 1720.0.
Support levels: 1660.0, 1600.0.
Trading tips
After growth or consolidation above the local maximum around 1700.0, purchase positions with the target at 1720.0 will be relevant. Stop loss – 1690.0.
After a reversal and decline or consolidation below the support level around 1660.0, it is important to open sell positions with the target at 1600.0. Stop loss – 1700.0.
Implementation period: 7 days or more.
Scenario
Timeframe

Weekly

Recommendation

BUY STOP

Entry Point

1700.0

Take Profit

1720.0

Stop Loss

1690.0

Key Levels

1600.0, 1660.0, 1700.0, 1720.0
Alternative scenario
Timeframe

Weekly

Recommendation

SELL STOP

Entry Point

1660.0

Take Profit

1600.0

Stop Loss

1700.0

Key Levels

1600.0, 1660.0, 1700.0, 1720.0