XAU/USD: general review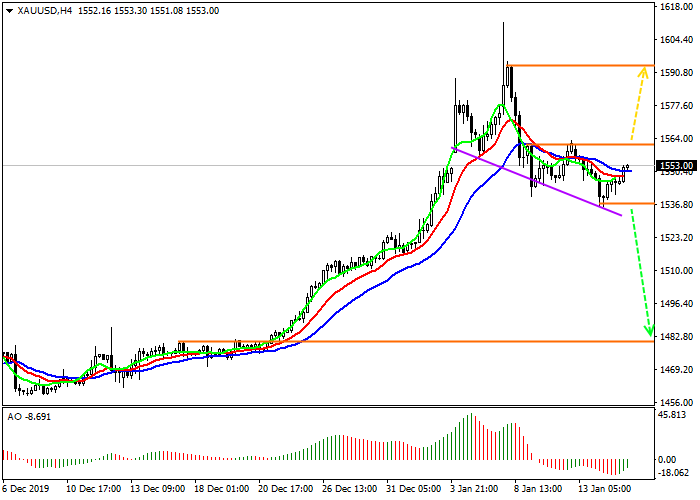 Current trend
The main reason for the decline in gold quotations was the outflow of investment capital in high-risk assets. The trend was facilitated by the strengthening of the USD Index, which indicates the positive sentiment of investors regarding USD, as well as by the imminent signing of the first phase of the US-China trade deal. USD Index is stable above the psychological level of 97 points, trading at around 97.100.
The spread in the arbitrage position between platinum and gold reaches unprecedented levels, and currently stands at USD 574 in favor of the latter, which is much higher than the average of last year, when the figure was USD 480. The spread with palladium is USD 607 in favor of palladium, which has become more expensive than gold.
Most factors indicate a possible decline in gold quotes this and next week to a key level at 1500.0.
Support and resistance
The correctional downward movement in the asset is gaining momentum. At a local interval, the price formed a Head and Shoulders reversal pattern. The Alligator indicator is in a state of sale, but the range of fluctuations is narrowing. A clear downtrend remains on the AO oscillator. Testing the pattern is possible in the near future.
Resistance levels: 1560.0, 1595.0.
Support levels: 1536.0, 1480.0.
Trading tips
If the asset declines and the price consolidates below the local low at 1536.0, short positions can be opened with the target at 1480.0. Stop loss should be placed above the local high, at 1565.0.
If the asset grows and the price consolidates above the local high at 1560.0, buy positions will be relevant with target at 1595.0. It is advisable to lower the stop loss below the previous local high at 1540.0.
Implementation time: 7 days and more.
Scenario
Timeframe

Weekly

Recommendation

SELL STOP

Entry Point

1536.0

Take Profit

1480.0

Stop Loss

1565.0

Key Levels

1480.0, 1536.0, 1560.0, 1595.0
Alternative scenario
Timeframe

Weekly

Recommendation

BUY STOP

Entry Point

1560.0

Take Profit

1595.0

Stop Loss

1540.0

Key Levels

1480.0, 1536.0, 1560.0, 1595.0