XAG/USD: silver prices recover
Current trend
Today, during the Asian session, silver prices grow moderately, continuing the development of yesterday's correctional impulse. However, the instrument is still near local lows of August 7 around 16.50.
The price is moderately supported by the uncertain situation surrounding US-Chinese trade negotiations. Yesterday, the assistant to the Minister of Commerce of China, Ren Hongbin, said that Beijing counted on an agreement in the near future but there were very few specifics, as always. Markets fear that on December 15, US President Donald Trump will introduce new import duties on Chinese goods, which could nullify all the progress made. As for the upcoming meetings of the Fed and the ECB this week, investors do not expect any changes in the monetary policy vector from the regulators, however, the officials' comments will be very important, especially considering that Christine Lagarde will deliver the speech as the head of the ECB for the first time.
Support and resistance
On the daily chart, Bollinger bands moderately fall. The price range expands but not as fast as the "bearish" moods developed at the end of last week. MACD falls, maintaining a moderate sell signal (the histogram is below the signal line). Stochastic falls, however, it is close to its lows, which indicates that the instrument is oversold in the ultra-short term.
Current technical indicators' readings do not contradict the further development of downward dynamics in the short and/or ultra-short term.
Resistance levels: 16.62, 16.71, 16.79, 17.00.
Support levels: 16.50, 16.29, 16.00.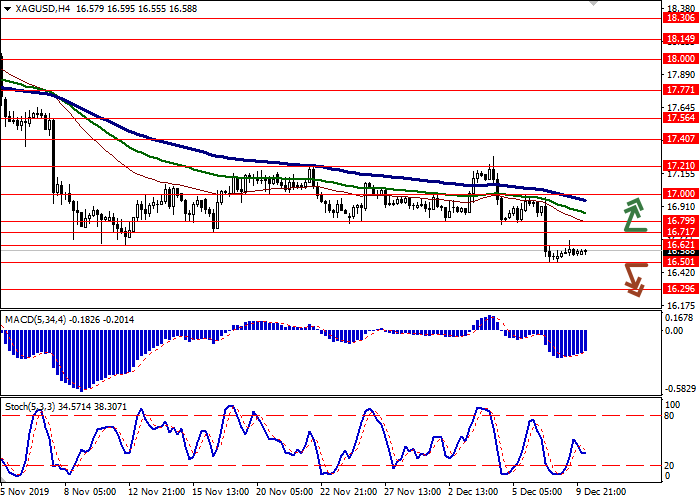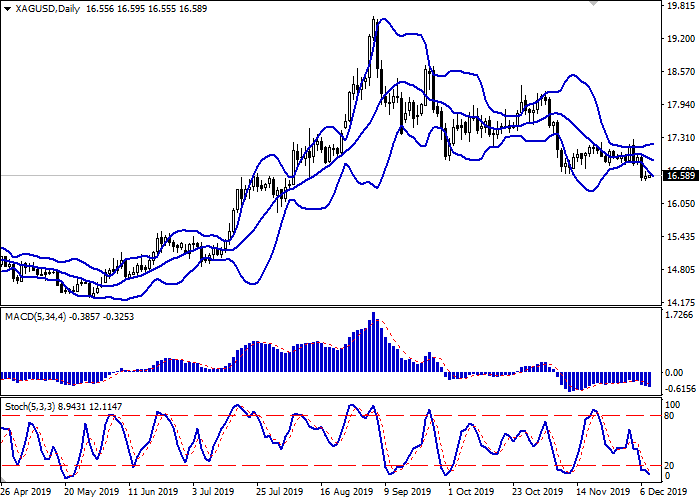 Trading tips
Long positions may be opened after the breakout of 16.71 with the targets at 17.00 or 17.10–17.21. Stop loss – 16.55–16.50.
Short positions may be opened after the breakdown of 16.50 with the target at 16.00. Stop loss – 16.71.
Implementation period: 2–3 days.
Scenario
Timeframe

Intraday

Recommendation

BUY STOP

Entry Point

16.73

Take Profit

17.00, 17.10, 17.21

Stop Loss

16.55, 16.50

Key Levels

16.00, 16.29, 16.29, 16.62, 16.71, 16.79, 17.00
Alternative scenario
Timeframe

Intraday

Recommendation

SELL STOP

Entry Point

16.47

Take Profit

16.00

Stop Loss

16.71

Key Levels

16.00, 16.29, 16.29, 16.62, 16.71, 16.79, 17.00