May 22, 2020, 9:29:14 AM
USD/CAD: USD strengthens
Current trend
USD shows moderate growth against CAD during today's Asian session, testing the level of 1.4000 for a breakout. The reason for the emergence of positive dynamics in the instrument is the rather strong position of USD, which receives support from the growing uncertainty regarding the prospects for the recovery of the global economy. In turn, the macroeconomic statistics are increasingly ambiguous. For example, support to USD on Thursday was provided by strong US data on business activity; however, more confident growth was hindered by statistics indicating a high number of Initial Jobless Claims.
Canadian data were noticeably worse. Investors reacted sharply negatively to the April employment report from ADP, according to which in April Employment Change fell by a record 226.7K jobs, which turned out to be significantly worse than data from the previous period, when employment decreased by 17.2K. Today, investors expect the release of March data on the dynamics of retail sales in Canada.
Support and resistance
Bollinger Bands in D1 chart demonstrate an unsteady decrease. The price range changes slightly, indicating the flat nature of trading in the short/medium term. MACD indicator is growing preserving a weak buy signal (located above the signal line). Stochastic, having rebounded from the level of "20"", maintains the uptrend.
One should consider an opportunity to open new long positions in the short and/or ultra-short term.
Resistance levels: 1.4000, 1.4050, 1.4100, 1.4151.
Support levels: 1.3950, 1.3900, 1.3849, 1.3800.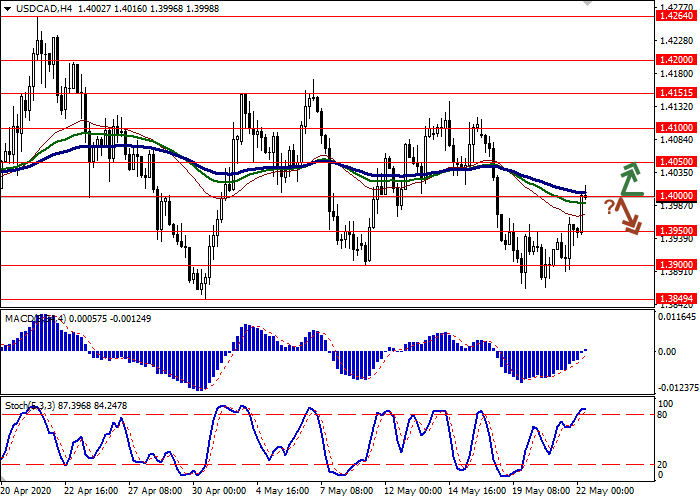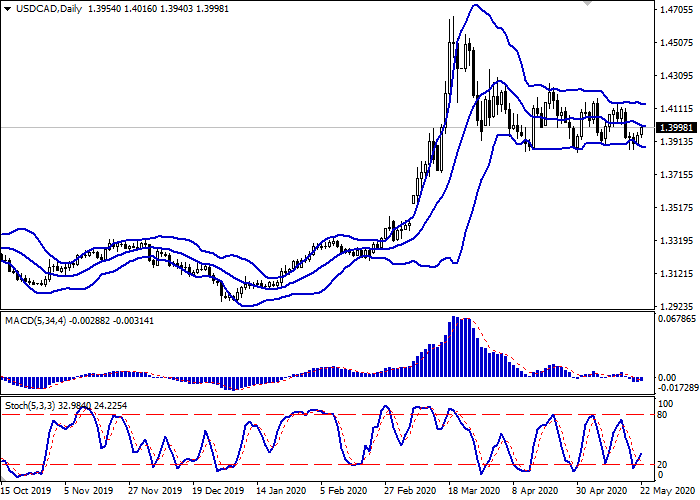 Trading tips
Confident consolidating of the instrument above the level of 1.4000 may be a signal to open new long positions with the target of 1.4100. Stop-loss – 1.3950.
A rebound from 1.4000 as from resistance, followed by a breakdown of 1.3950 may become a signal for new sales with the target at 1.3849. Stop-loss – 1.4000.
Implementation time: 2-3 days.
Scenario
Timeframe

Intraday

Recommendation

BUY STOP

Entry Point

1.4005

Take Profit

1.4100

Stop Loss

1.3950

Key Levels

1.3800, 1.3849, 1.3900, 1.3950, 1.4000, 1.4050, 1.4100, 1.4151
Alternative scenario
Timeframe

Intraday

Recommendation

SELL STOP

Entry Point

1.3945

Take Profit

1.3849

Stop Loss

1.4000

Key Levels

1.3800, 1.3849, 1.3900, 1.3950, 1.4000, 1.4050, 1.4100, 1.4151