Apr 10, 2020, 9:37:41 AM
USD/CAD: US dollar declines
Current trend
Today, during the Asian session, the USD/CAD pair is slightly decreasing, continuing to develop the correctional impulse that formed on the market at the beginning of the week. Now, the instrument is trying to consolidate below 1.3950. The price is under pressure of the uncertain prospects of the world economy due to the epidemic of the coronavirus, which is, however, close to its peak. Yesterday's US macroeconomic statistics indicated a new sharp increase in Initial Jobless Claims data, which worsens the average estimates of experts regarding the magnitude of the future crisis in the US economy. Yesterday's Canadian data were no better.
March Employment Change fell to a record 1010.7K after an increase of 30.3K last month against the forecasts predicted a decrease of only 350K. March Participation Rate decreased from 65.5% to 63.5%, and the Unemployment Rate grew from 5.6% to 7.8%, which also was worse than market expectations of 7.2%.
Support and resistance
On the daily chart, Bollinger Bands actively decline. The price range narrows, reflecting the ambiguous dynamics in the short term. MACD falls, maintaining a strong sell signal (the histogram is below the signal line). Stochastic falls but quickly approaches its lows, indicating that USD is oversold in the ultra-short term.
It is better to keep the current short positions until the situation becomes clear.
Resistance levels: 1.4000, 1.4100, 1.4200, 1.4297.
Support levels: 1.3900, 1.3819, 1.3700, 1.3650.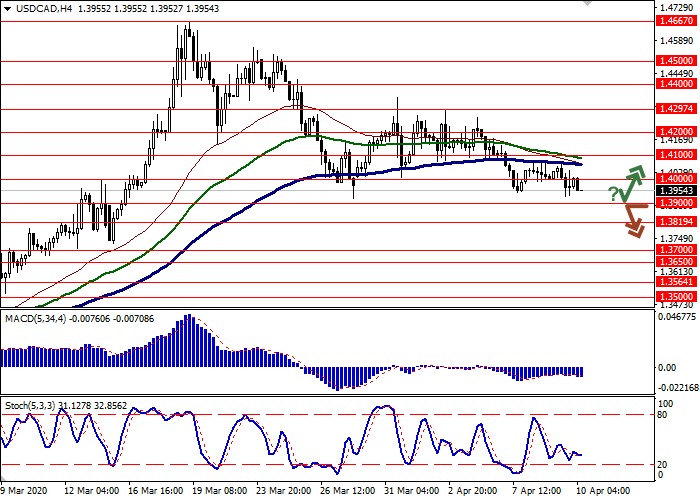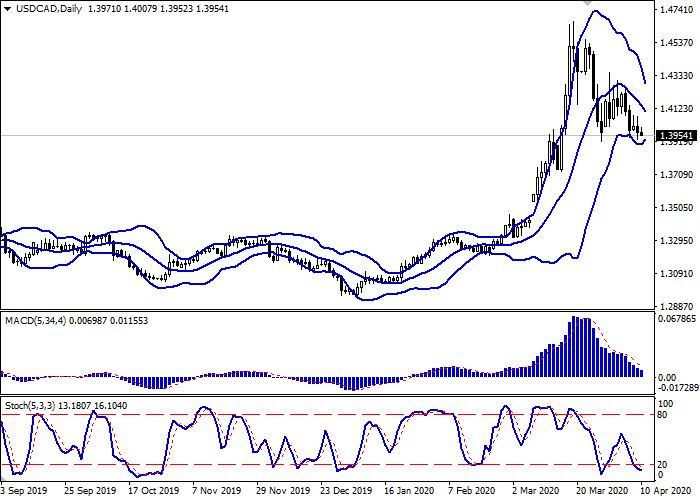 Trading tips
Long positions may be opened after a rebound from 1.3900 and a breakout of 1.4000 with the target at 1.4200. Stop loss – 1.3900.
Short positions may be opened after the breakdown of 1.3900 with the target at 1.3700 or 1.3650. Stop loss – 1.4000–1.4030.
Implementation period: 2–3 days.
Scenario
Timeframe

Intraday

Recommendation

BUY STOP

Entry Point

1.4005

Take Profit

1.4200

Stop Loss

1.3900

Key Levels

1.3650, 1.3700, 1.3819, 1.3900, 1.4000, 1.4100, 1.4200, 1.4297
Alternative scenario
Timeframe

Intraday

Recommendation

SELL STOP

Entry Point

1.3895

Take Profit

1.3700, 1.3650

Stop Loss

1.4000, 1.4030

Key Levels

1.3650, 1.3700, 1.3819, 1.3900, 1.4000, 1.4100, 1.4200, 1.4297