Apr 10, 2020, 9:17:42 AM
AUD/USD: the instrument is consolidating
Current trend
AUD shows ambiguous dynamics of trading against USD and is consolidating near local highs since March 12, updated the day before. Today, exchanges are closed in many countries due to Good Friday, so trading activity remains low. However, given the high level of volatility in the market, it is possible that in the afternoon, with the publication of US data, activity will begin to gradually recover.
During the Asian session, traders are focused on the publication of macroeconomic statistics from China. In March, Consumer Price Index slowed down from 5.2% YoY to 4.3% YoY, which turned out to be worse than expert estimates at 4.8% YoY. On a monthly basis, consumer inflation in March fell by 1.2% MoM after rising by 0.8% MoM in February. Analysts had expected negative trend to appear, but counted on only 0.7% MoM decline.
Support and resistance
Bollinger Bands in D1 chart show active growth. The price range is widening but does not conform to the development of the "bullish" trend in the short term yet. MACD indicator is growing preserving a stable buy signal (located above the signal line). Stochastic, having approached its highs is gradually reversing into a horizontal plane, indicating the risks of overbought USD in the ultra-short term.
Technical indicators do not contradict the further development of the "bullish" trend in the short and/or ultra-short term.
Resistance levels: 0.6432, 0.6508, 0.6584, 0.6650.
Support levels: 0.6303, 0.6212, 0.6100, 0.6000.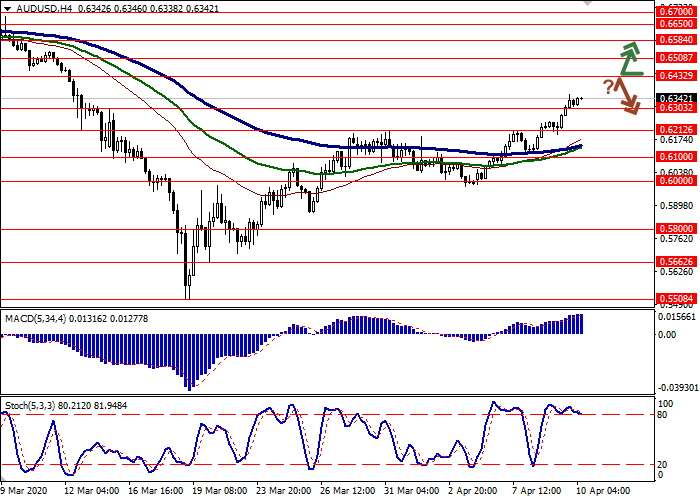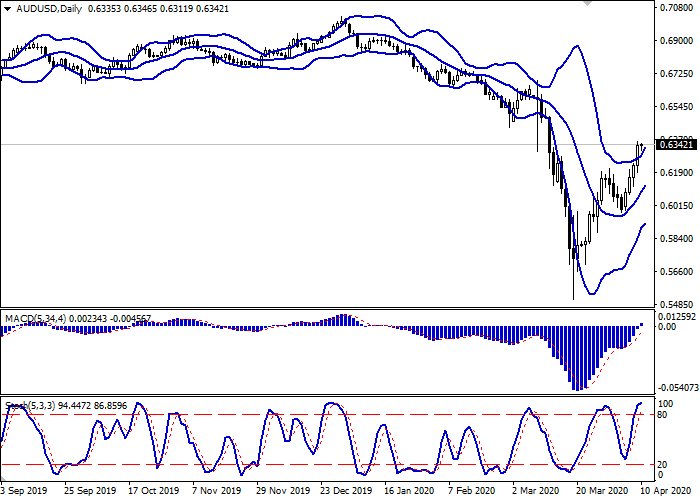 Trading tips
To open long positions, one can rely on the breakout of 0.6432. Take profit – 0.6584 or 0.6600. Stop-loss – 0.6340.
A rebound from 0.6432 as from resistance, followed by a breakdown of 0.6340 or 0.6300 may become a signal to new sales with the target at 0.6100. Stop-loss – 0.6400 or 0.6432.
Implementation time: 2-3 days.
Scenario
Timeframe

Intraday

Recommendation

BUY STOP

Entry Point

0.6435

Take Profit

0.6584, 0.6600

Stop Loss

0.6340

Key Levels

0.6000, 0.6100, 0.6212, 0.6303, 0.6432, 0.6508, 0.6584, 0.6650
Alternative scenario
Timeframe

Intraday

Recommendation

SELL STOP

Entry Point

0.6335, 0.6295

Take Profit

0.6100

Stop Loss

0.6400, 0.6432

Key Levels

0.6000, 0.6100, 0.6212, 0.6303, 0.6432, 0.6508, 0.6584, 0.6650