Apr 9, 2020, 9:08:32 AM
NZD/USD: New Zealand dollar strengthens
Current trend
Today, during the Asian session, the NZD/USD pair is growing moderately, trading near the local highs since March 31. NZD is strengthening due to the development of USD correction dynamics, which is slightly weakening due to improved investor sentiment in the market. The statistics of incidence in Europe suggest that the epidemic has reached its peak, and soon, a gradual easing of several restrictive measures may be expected. Some stabilization was outlined in New York, which was hit hardest by the US epidemic. The peak is not reached but the general trend is positive. More confident NZD growth is hindered by the publication of disappointing macroeconomic statistics from New Zealand. So, Electronic Card Retail Sales in March decreased by 3.9% MoM after an increase by 0.5% MoM in the previous month. Analysts had expected positive dynamics of +0.3% MoM. Also, the indicator fell from +8.6% YoY to –1.8% YoY against the forecast of +5.3% YoY.
Support and resistance
On the daily chart, Bollinger Bands actively grows. The price range narrows, reflecting the ambiguous dynamics in the short/medium term. MACD grows, maintaining a strong buy signal (the histogram is above the signal line). Stochastic grows but quickly approaches its highs, reflecting that the instrument may become overbought in the very short term.
It is better to keep the current long positions until signals from technical indicators are clarified.
Resistance levels: 0.6068, 0.6120, 0.6200, 0.6300.
Support levels: 0.6000, 0.5878, 0.5805, 0.5690.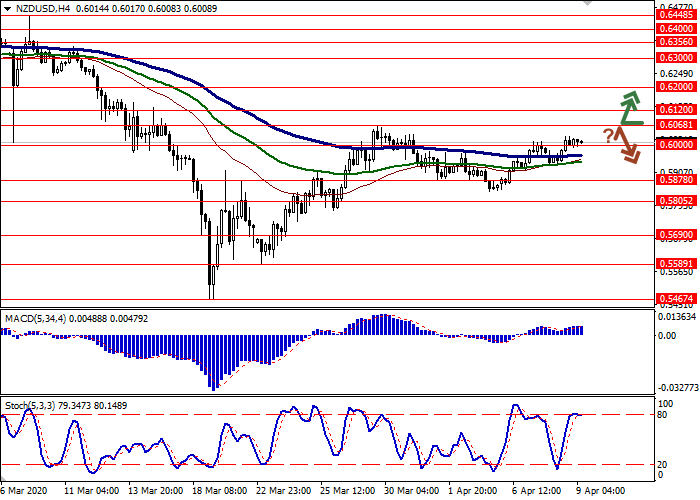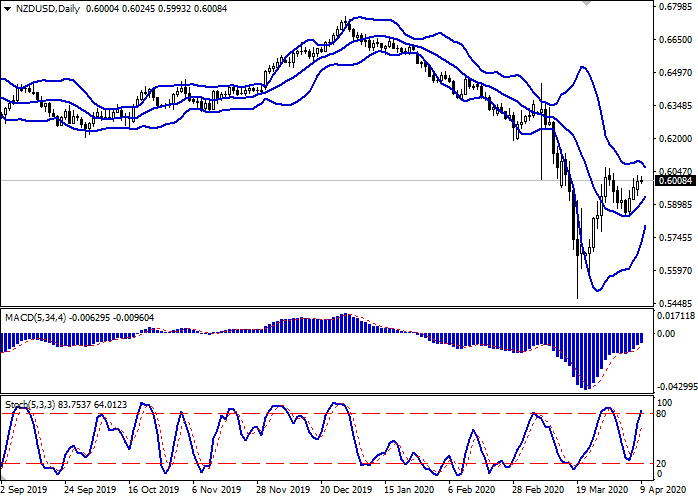 Trading tips
Long positions may be opened after the breakout of 0.6068 or 0.6120 with the target at 0.6300. Stop loss – 0.6000 or 0.5940.
Short positions may be opened after a rebound from 0.6068 and a breakdown of 0.6000 with the target at 0.5805 or 0.5750. Stop loss – 0.6120.
Implementation period: 2–3 days.
Scenario
Timeframe

Intraday

Recommendation

BUY STOP

Entry Point

0.6070, 0.6125

Take Profit

0.6300

Stop Loss

0.6000, 0.5940

Key Levels

0.5690, 0.5805, 0.5878, 0.6000, 0.6068, 0.6120, 0.6200, 0.6300
Alternative scenario
Timeframe

Intraday

Recommendation

SELL STOP

Entry Point

0.5995

Take Profit

0.5805, 0.5750

Stop Loss

0.6120

Key Levels

0.5690, 0.5805, 0.5878, 0.6000, 0.6068, 0.6120, 0.6200, 0.6300