Apr 9, 2020, 8:57:43 AM
USD/CAD: the pair is correcting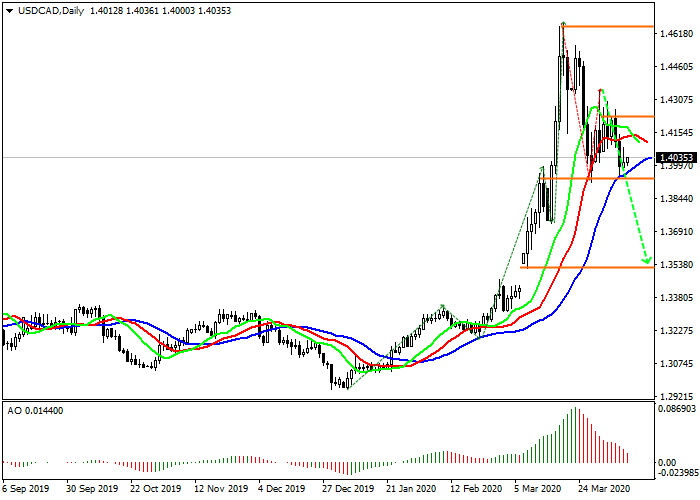 Current trend
The pair continues declining moderately amid the strengthening of USD against a basket of world currencies. USD Index is currently trading at 100.100, which led to a decrease in the pair to the current level of 1.4000.
The US FOMC announced establishment of a temporary FIMA Repo Facility to help support the smooth functioning of financial markets, including the US Treasury market, and thereby continue to provide loans to households and domestic enterprises. In fact, the committee made it clear that measures to introduce cash liquidity were insufficient and something more effective was needed.
The Bank of Canada published a report on the state of the national economy. Sales growth rate fell to a negative value. With the beginning of the fall in oil prices, sales prospects for enterprises tied to the energy sector have weakened significantly. Ivey Purchasing Managers Index was 26 points with a forecast of 41 points; the number of Building Permits also decreased and amounted to –7.3% against the forecast of –4.5%.
Support and resistance
Correction to global growth continues and develops according to the classic three-wave ABC scenario. At the moment, wave C is being formed. Fast EMAs on the Alligator indicator have already crossed, giving the primary signal for a trend change. The AO histogram also shows a downtrend.
Resistance levels: 1.4220, 1.4640.
Support levels: 1.3940, 1.3540.
Trading tips
If the asset continues correctional decline, and the price consolidates below the local low at 1.3940, sell positions can be opened with the target at 1.3540. Stop-loss – 1.4150.
If the asset continues growing globally and the price consolidates above the resistance level of 1.4220, buy positions will be relevant with target at 1.4640. Stop-loss – 1.4100.
Implementation time: 7 days and more.
Scenario
Timeframe

Weekly

Recommendation

SELL STOP

Entry Point

1.3940

Take Profit

1.3540

Stop Loss

1.4150

Key Levels

1.3540, 1.3940, 1.4220, 1.4640
Alternative scenario
Timeframe

Weekly

Recommendation

BUY STOP

Entry Point

1.4220

Take Profit

1.4640

Stop Loss

1.4100

Key Levels

1.3540, 1.3940, 1.4220, 1.4640