Apr 9, 2020, 8:56:53 AM
EUR/USD: euro consolidates
Current trend
Today, during the Asian session, the EUR/USD pair is growing slightly, continuing to develop the "bullish" momentum formed on Tuesday. Yesterday, EUR declined due to the failure of the Eurogroup negotiations, which lasted more than 15 hours. Initially, the meeting was supposed to agree on a new package of measures to support the European economy of more than 500 billion euros but due to several disagreements, a consensus was not reached. However, the Eurogroup intends to continue its negotiations on Thursday, so investors still hope for a positive outcome.
Also, today, traders are focused on the ECB Meeting Minutes release. There will be few key macroeconomic statistics from Europe. The February data on import and export of Germany, as well as the February statistics on the dynamics of industrial production in Italy, deserve the most attention. More important are US Initial Jobless Claims data, which last week rose sharply to 6648K.
Support and resistance
On the daily chart, Bollinger bands grow moderately. The price range narrows, reflecting the appearance of an ambiguous dynamics in the short term. MACD grows, maintaining a poor buy signal (the histogram is above the signal line). Stochastic grows more confidently and is currently located approximately in the center of its workspace.
The current readings of the technical indicators do not contradict the further development of the "bullish" dynamics in the short and/or ultra-short term.
Resistance levels: 1.0900, 1.0954, 1.1000, 1.1054.
Support levels: 1.0800, 1.0740, 1.0634.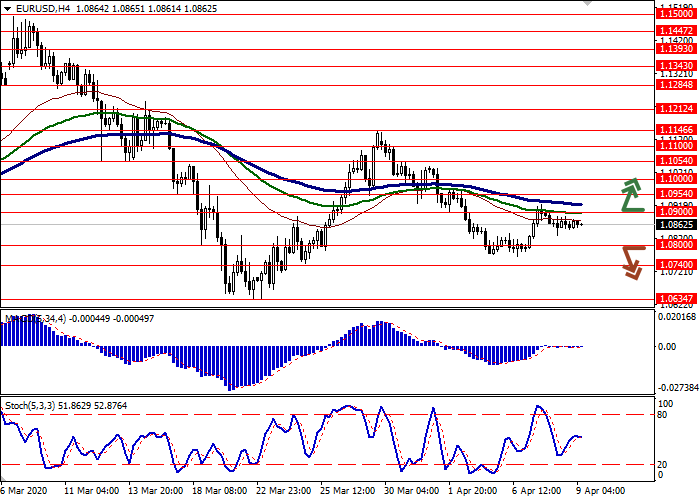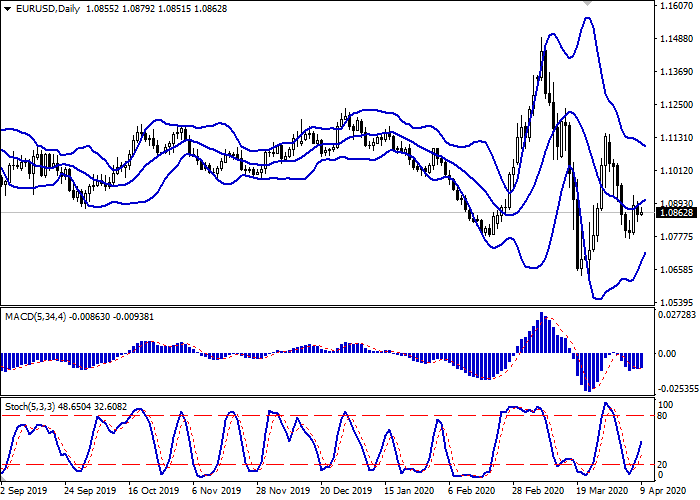 Trading tips
Long positions may be opened after the breakout of 1.0900 or 1.0954 with the targets at 1.1054 or 1.1100–1.1146. Stop loss – 1.0870–1.0820.
Short positions may be opened after the breakdown of 1.0800 with the targets at 1.0634–1.0600. Stop loss no further than 1.0900.
Implementation period: 2–3 days.
Scenario
Timeframe

Intraday

Recommendation

BUY STOP

Entry Point

1.0905, 1.0960

Take Profit

1.1054, 1.1100, 1.1146

Stop Loss

1.0870, 1.0820

Key Levels

1.0634, 1.0740, 1.0800, 1.0900, 1.0954, 1.1000, 1.1054
Alternative scenario
Timeframe

Intraday

Recommendation

SELL STOP

Entry Point

1.0795

Take Profit

1.0634, 1.0600

Stop Loss

1.0900

Key Levels

1.0634, 1.0740, 1.0800, 1.0900, 1.0954, 1.1000, 1.1054