AUD/USD: general review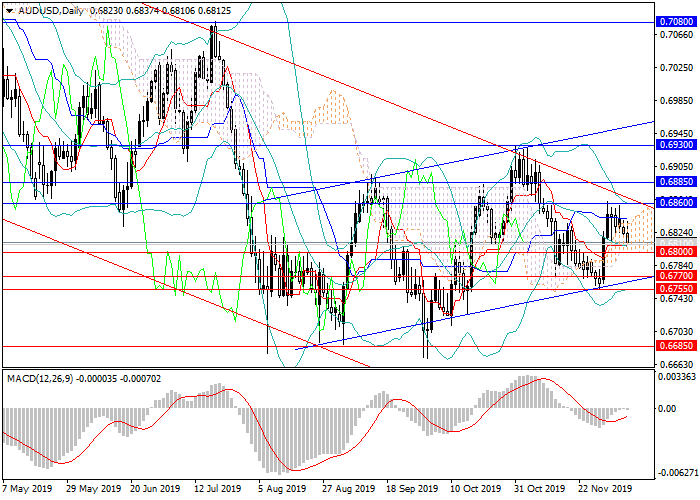 Current trend
The AUD/USD pair moves within a long-term downward trend. In August and September, the price tested the local minimum at 0.6685 several times but, failing to consolidate below it, reversed and went upwards. Over the past few months, a wide rising channel has been forming. In early November, the price tested the upper limit of the long-term downward channel, reversed and began to decline. In general, the instrument moves within the sideways range, rising by 200 points and then declining. The main catalyst for this movement is the weakness of the Australian currency and a noticeable decline in demand for the US dollar amid poor macroeconomic data on the main sectors of the US economy.
Support and resistance
Despite the rapid depreciation of USD at the end of this year, it is unlikely that the pair may grow significantly. AUD has been falling over the past two years. A long upward correction with the targets at 0.7080, 0.7100 may follow but in the medium term, the instrument will decline. However, a breakdown of the local minimum in the next few months is unlikely: USD will continue to fall, and only strong US data can inspire investors. To summarize the above, wide sideways consolidation is likely in the medium term.
Technical indicators confirm this forecast: MACD volumes are falling, the signal line is near the zero one, Bollinger bands are aligned in parallel.
Resistance levels: 0.6860, 0.6885, 0.6930, 0.7080, 0.7100.
Support levels: 0.6800, 0.6770, 0.6755, 0.6685, 0.6600, 0.6570.
Trading tips
Short positions may be opened from the levels of 0.6930, 0.7080, 0.7100 with the target at 0.6685 and stop loss 0.7150.
Scenario
Timeframe

Weekly

Recommendation

SELL LIMIT

Entry Point

0.6930, 0.7080, 0.7100

Take Profit

0.6685

Stop Loss

0.7150

Key Levels

0.6570, 0.6600, 0.6685, 0.6755, 0.6770, 0.6800, 0.6860, 0.6885, 0.6930, 0.7080, 0.7100