USD/CHF: general review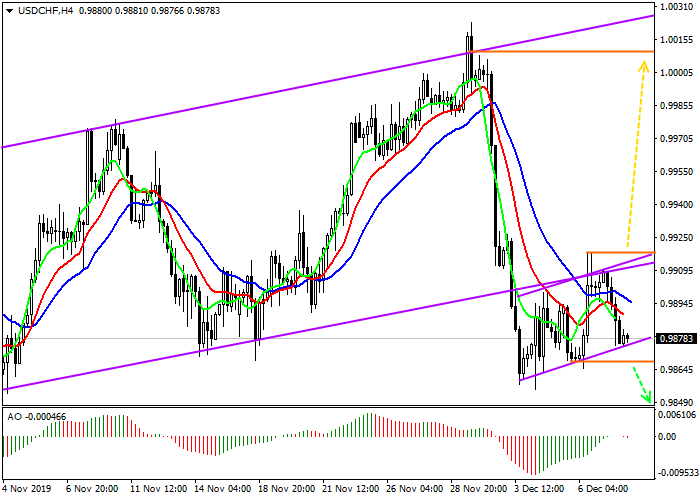 Current trend
The USD/CHF pair consolidates within a narrow range, waiting for USD volatility. There are no noticeable changes in the Swiss currency, and macroeconomic indicators continue to follow the experts' expectations: for example, the unemployment rate has remained around 2.3%, as in the previous reporting period.
The key event that may affect the exchange rate of the US dollar and the pair as a whole is the Fed meeting, which will be held on Wednesday. Despite that in October, the rate was already reduced, there are fears of further easing of monetary policy. At the moment, it consolidates at 1.75%.
At least until Wednesday, the instrument is likely to move within an extremely narrow range in anticipation of increased volatility in the US dollar.
Support and resistance
The price confidently fixed below the support line of the long-term channel in which it spent the whole autumn. At the moment, a narrower range that can work as a "flag" pattern may form. The Alligator indicator gave a typical signal for the continuation of the global trend when two fast EMAs crossed but remained under a slow one, which is a sign of the end of the correction wave.
Resistance levels: 0.9915, 1.0010.
Support levels: 0.9870, 0.9710.
Trading tips
If the asset continues to decline and the price consolidates below the local minimum at 0.9870, it is important to open sell positions with a target at 0.9710. Stop loss is behind a local maximum, around 0.9920.
In the case of a reversal and growth, as well as fixing the price above 0.9925, buy positions with the target at 1.0010 will be relevant. Stop loss is below the local minimum, around 0.9850.
Implementation period: 7 days or more.
Scenario
Timeframe

Weekly

Recommendation

SELL STOP

Entry Point

0.9870

Take Profit

0.9710

Stop Loss

0.9920

Key Levels

0.9710, 0.9870, 0.9915, 1.0010
Alternative scenario
Timeframe

Weekly

Recommendation

BUY STOP

Entry Point

0.9925

Take Profit

1.0010

Stop Loss

0.9850

Key Levels

0.9710, 0.9870, 0.9915, 1.0010