Dec 3, 2019, 9:04:50 AM
GBP/USD: general review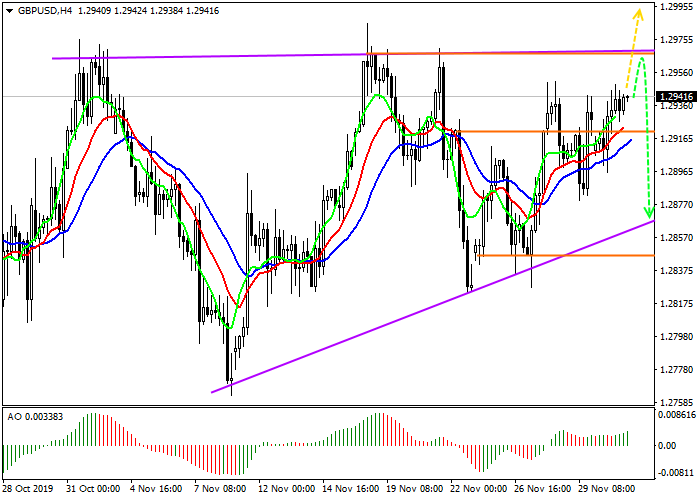 Current trend
On Monday, Manufacturing PMI was published. The data unexpectedly showed growth and amounted to 48.9, despite the forecast of 48.3. Although the increase is small it speaks of the growth of the attractiveness of investment in British production.
Investors are focused on the statement by British Prime Minister Boris Johnson, who called January 31, 2020, the deadline for the country's exit from the European Union if his party wins the December parliamentary elections. After these words, the pound strengthened, which surprised investors: last month, the market met almost any official statement with a negative.
In general, pressure on the UK currency is only increasing and sooner or later will lead to its decline.
Support and resistance
The dynamics of the pair begins to narrow, although trading volumes are not declining. It may indicate a large position that awaits the driver for a breakthrough. Technically, the Alligator indicator is in a state of purchase but the divergence range of the EMA is very narrow, and a reversal can happen at any time.
Resistance levels: 1.2970, 1.3050.
Support levels: 1.2920, 1.2840.
Trading tips
In the event of a price reversal and asset decline, as well as price fixing below the local minimum at 1.2920, it is better to open sell positions with the target at 1.2840. Stop loss, in this case, may be set above the current price, at 1.2960.
If the asset continues to grow and the price consolidates above the local maximum at 1.2970, buy positions with the target at 1.3050 will be relevant. Stop loss in this case, it is advisable to lower below the local maximum at the level of 1.2930.
Implementation period: 4 days.
Scenario
Timeframe

Intraday

Recommendation

SELL STOP

Entry Point

1.2920

Take Profit

1.2840

Stop Loss

1.2960

Key Levels

1.2840, 1.2920, 1.2970, 1.3050
Alternative scenario
Timeframe

Intraday

Recommendation

BUY STOP

Entry Point

1.2970

Take Profit

1.3050

Stop Loss

1.2930

Key Levels

1.2840, 1.2920, 1.2970, 1.3050