Dec 3, 2019, 8:41:39 AM
USD/CHF: the dollar remains under pressure
Current trend
Today, during the Asian session, the USD/CHF pair slightly corrects, recovering from yesterday's sharp decline. USD is under pressure of an ambiguous US data. So, Markit Manufacturing PMI for November rose from 52.2 to 52.6 points with a neutral forecast. At the same time, ISM Manufacturing PMI for November decreased from 48.3 to 48.1 points, while investors expected its growth to 49.2 points. Data on business activity from Switzerland came out better than expected but also reflected negative dynamics. SVME PMI for November fell from 49.4 to 48.8 points against the forecast of 48.6 points.
During the day, investors wait for the publication of Swiss consumer price indices for November. It is expected that inflation will maintain negative dynamics at the level of –0.1% MoM, having slightly improved from the previous –0.2% MoM.
Support and resistance
On the daily chart, Bollinger Bands reverse horizontally. The price range narrows, indicating the ambiguous dynamics in the short term. MACD falls, maintaining a strong sell signal (the histogram is below the signal line). Stochastic falls but is quickly approaching its lows, signaling that USD may become oversold in the short-term.
It is worth keeping some of the short positions in the short and/or ultra-short term and until the signals are clear before opening new positions.
Resistance levels: 0.9926, 0.9950, 0.9964, 0.9980.
Support levels: 0.9909, 0.9889, 0.9867, 0.9848.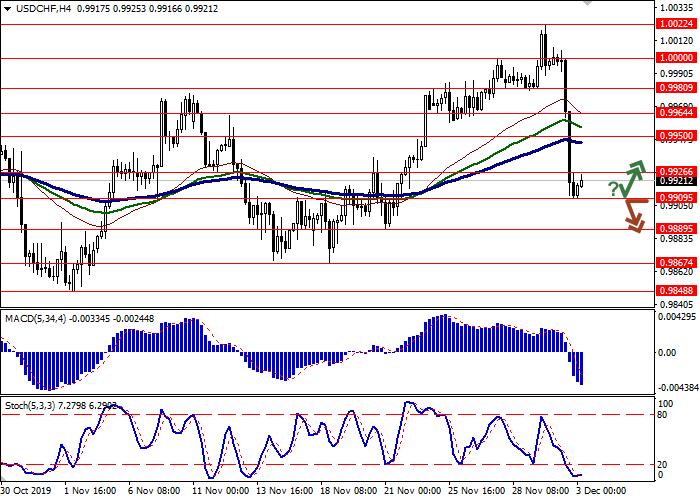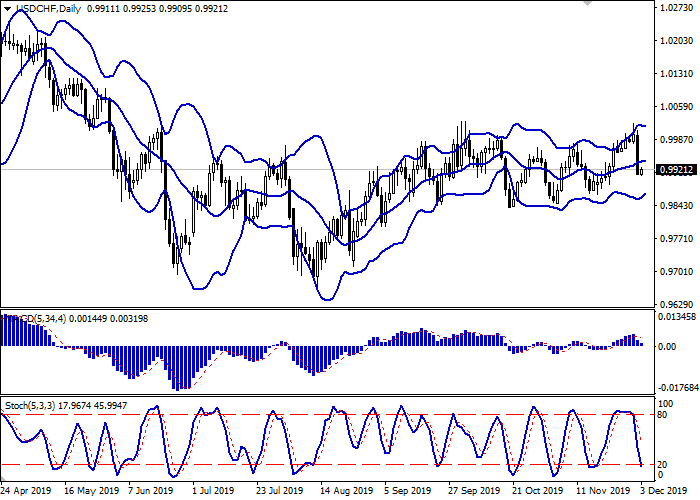 Trading tips
Long positions may be opened after a rebound from 0.9909 and a breakout of 0.9926 with the target at 0.9950 or 0.9964. Stop loss – 0.9900. Implementation period: 1–2 days.
Short positions may be opened after the breakdown of 0.9909–0.9900 with the target at 0.9867 or 0.9848. Stop loss – 0.9926–0.9935.
Implementation period: 2–3 days.
Scenario
Timeframe

Intraday

Recommendation

BUY STOP

Entry Point

0.9930

Take Profit

0.9964

Stop Loss

0.9900

Key Levels

0.9848, 0.9867, 0.9889, 0.9909, 0.9926, 0.9950, 0.9964, 0.9980
Alternative scenario
Timeframe

Intraday

Recommendation

SELL STOP

Entry Point

0.9900, 0.9895

Take Profit

0.9867, 0.9848

Stop Loss

0.9926, 0.9935

Key Levels

0.9848, 0.9867, 0.9889, 0.9909, 0.9926, 0.9950, 0.9964, 0.9980