Dec 3, 2019, 8:37:50 AM
NZD/USD: New Zealand dollar strengthens
Current trend
Today, during the Asian session, the NZD/USD pair is growing moderately, renewing local highs from August 7. The "bullish" impulse formed yesterday under the influence of poor macroeconomic statistics from the USA remains. In particular, investors were disappointed with ISM Manufacturing PMI. For November, the indicator fell from 48.3 to 48.1 points with a forecast of growth to 49.2 points. The instrument was also supported by Chinese data. So, the Caixin Manufacturing PMI for November rose from 51.7 to 51.8 points, which turned out to be better than market expectations of 51.4 points.
Support and resistance
On the daily chart, Bollinger bands are growing moderately. The price range is expanding but not as fast as the "bullish" moods develop. The MACD indicator is growing, maintaining a strong buy signal (the histogram is above the signal line). Stochastic is directed upward but is in close proximity to its highs, which signals that the instrument may become overbought in the ultra-short term.
It is better to keep the current long positions in the short and/or ultra-short term until the market situation is clarified.
Resistance levels: 0.6532, 0.6566, 0.6614.
Support levels: 0.6500, 0.6464, 0.6436, 0.6417.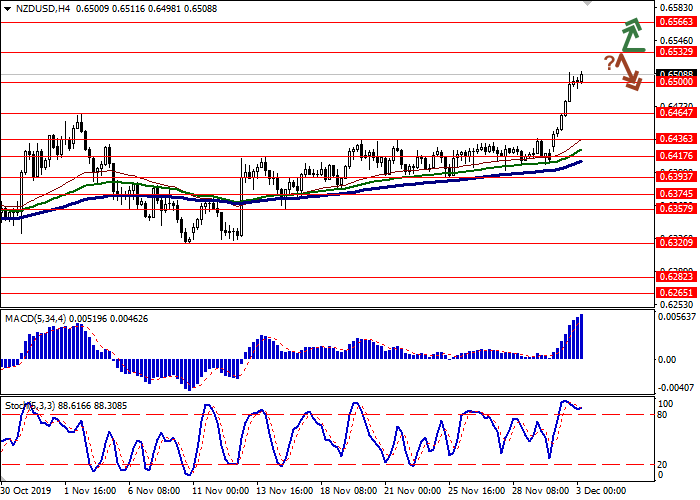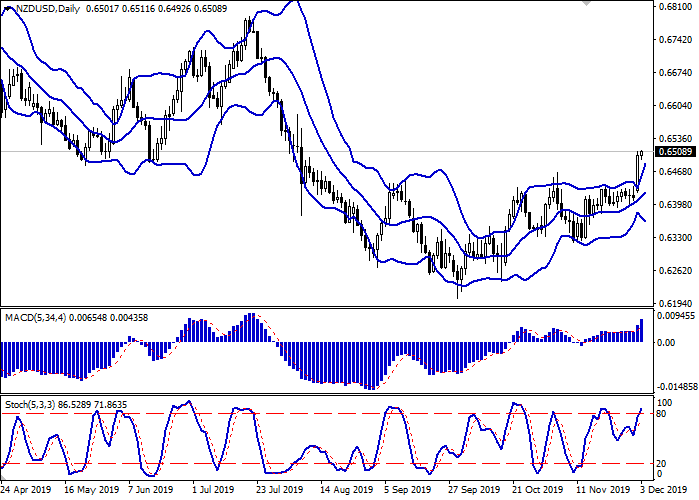 Trading tips
Long positions may be opened after the breakout of the level of 0.6532 with the targets at 0.6600–0.6614. Stop loss – 0.6500 or 0.6490.
Short positions may be opened after a rebound from the level of 0.6532 and a breakdown of the level of 0.6500 with the targets at 0.6436 or 0.6417–0.6400. Stop loss – 0.6532–0.6540.
Implementation period: 2–3 days.
Scenario
Timeframe

Intraday

Recommendation

BUY STOP

Entry Point

0.6535

Take Profit

0.6600, 0.6614

Stop Loss

0.6500, 0.6490

Key Levels

0.6417, 0.6436, 0.6464, 0.6500, 0.6532, 0.6566, 0.6614
Alternative scenario
Timeframe

Intraday

Recommendation

SELL STOP

Entry Point

0.6495

Take Profit

0.6436, 0.6417, 0.6400

Stop Loss

0.6532, 0.6540

Key Levels

0.6417, 0.6436, 0.6464, 0.6500, 0.6532, 0.6566, 0.6614