NZD/USD: downward momentum will continue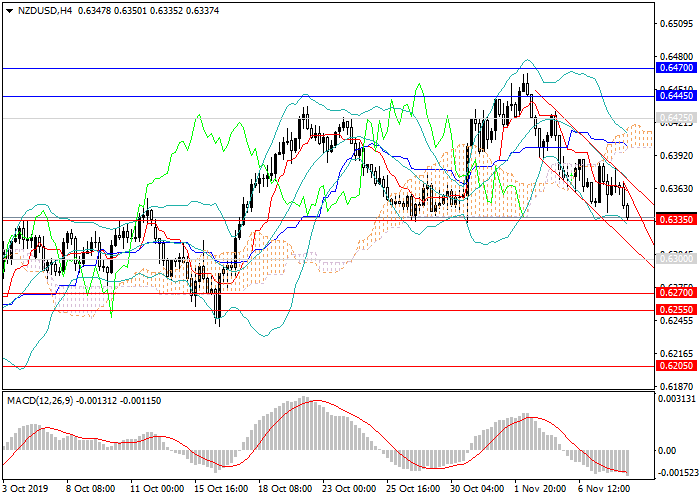 Current trend
This week, the NZD/USD pair is falling. In October and early November, the price rose significantly amid falling demand for USD and closing of a large volume of short positions due to negative US releases.
At the beginning of the current trading week, the rate reached the new local maximum at 0.6470, breaking the key resistance level of 0.6445. Unable to consolidate there, the instrument reversed and quickly went down, having lost a little less than 150 points in a few days. Today, it reached the first significant support level at 0.6335. The trend is due to a fall in investor interest in NZD at its peak. The volume of short positions is growing again, putting additional pressure on the pair. It is also worth noting the release of negative data on the New Zealand labor market, which also weakened NZD.
At the end of the current trading week, there is a lack of key macroeconomic data, and the pair will move on trading sentiment, maintaining the current downward momentum.
Support and resistance
The decline can be regarded as direction change, and the pair may fall to recent historical lows of 0.6270, 0.6255, 0.6205. In the future, an upward wave may form, since the key support level of 0.6205 will not be easy to pass.
On the 4-hour chart, technical indicators confirm the forecast of a decrease in the medium term: the volumes of short MACD positions are growing, and Bollinger bands are directed downwards.
Resistance levels: 0.6425, 0.6445, 0.6470, 0.6530, 0.6550, 0.6600.
Support levels: 0.6335, 0.6270, 0.6200, 0.6255, 0.6205, 0.6170.
Trading tips
Short positions may be opened from the current level with the target at 0.6205 and stop loss of 0.6380.
Scenario
Timeframe

Weekly

Recommendation

SELL

Entry Point

0.6336

Take Profit

0.6205

Stop Loss

0.6380

Key Levels

0.6170, 0.6205, 0.6255, 0.6200, 0.6270, 0.6335, 0.6425, 0.6445, 0.6470, 0.6530, 0.6550, 0.6600