USD/CAD: growth within a broad consolidation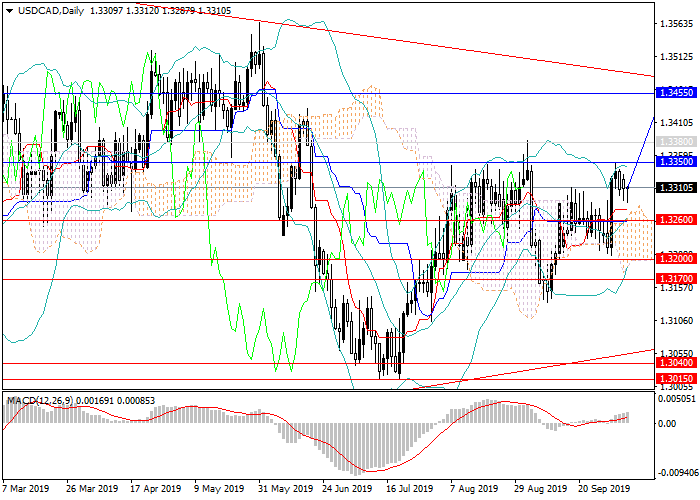 Current trend
The USD/CAD pair continues to trade within a sideways trend. Since August, the price has unsuccessfully tested the key resistance level 1.3350 several times, was corrected downwards but later again rose to the level. For two months, the pair has been trading within the range of 200 points. The main catalyst for sideways consolidation is a lack of changes in key macroeconomic indicators in the US and Canada. At the beginning of this month, the rate rushed up again amid favorable statistics on manufacturing orders, the labor market, and US indices. After retesting the level of 1.3350, the instrument went down again.
In the middle of the current trading week, the key US data will be released: key indices, inflation data, and the FOMC protocol. At the end of the week, Canada will publish data on the labor market.
Support and resistance
In the short term, the pair can break the level of 1.3350 and strengthen to the level of 1.3455, which is the upper border of the narrowing sideways channel. Later, a long downward correction with the target at 1.3260 is expected. The consolidation above 1.3655 is unlikely in the medium term.
On the daily chart, technical indicators give a signal of consolidation within the sideways trend: the volumes of long MACD positions are declining, the signal line is near the zero line, Bollinger bands are lined up in parallel.
Support levels: 1.3260, 1.3200, 1.3170, 1.3040, 1.3015, 1.3000.
Resistance levels: 1.3350, 1.3380, 1.3455, 1.3500, 1.3655.
Trading tips
Long positions can be opened from the current level with the targets at 1.3455, 1.3655 and stop loss 1.3220.
Scenario
Timeframe

Weekly

Recommendation

BUY

Entry Point

1.3305

Take Profit

1.3455, 1.3655

Stop Loss

1.3220

Key Levels

1.3000, 1.3015, 1.3040, 1.3170, 1.3200, 1.3260, 1.3350, 1.3380, 1.3455, 1.3500, 1.3655