Apr 10, 2020, 9:13:29 AM
CAC 40: general analysis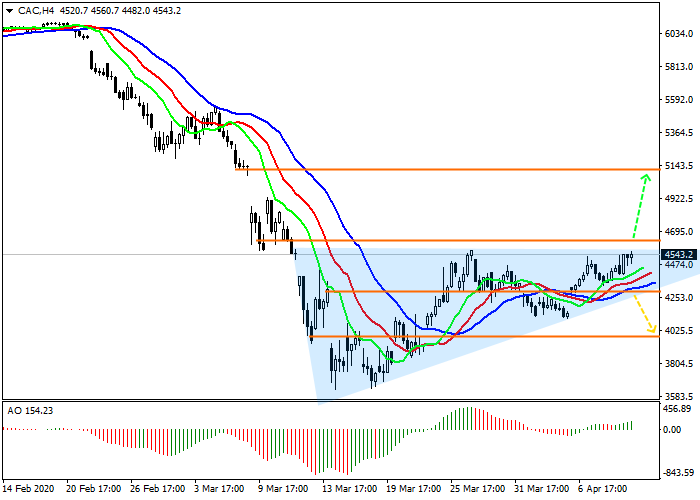 Current trend
One of the leading indices of the European economy, CAC 40 continues to moderately strengthen against the background of the publication of the ECB's monetary policy report.
The instrument was supported by the positive rhetoric of the regulator. The forecast for real GDP growth by the end of the year is expected to reach 1.3% against the current value of 0.8%. HICP annual inflation fell to 1.2%, and a further decrease due to low energy prices is expected in the coming months. Market indicators of long-term inflation expectations fell to a new record low, while the five-year forward swap rate in the EU associated with inflation was five years ahead of it by 0.92% on March 10, 2020. At the end of the report, the ECB announced the next LTRO III support program for 120 billion euros.
Among the components of the index, the growth leaders are Sodexo SA (+12.90%), Safran (+6.16%), BNP Paribas (+5.38%), Engie (+4.92%). Among the declining companies are Carrefour (–3.20%), Michelin (–0.98%).
Support and resistance
The index continues corrective growth within the local Triangle pattern. For almost the entire week, the index trades near the pattern' resistance line but cannot break it. Both technical indicators are in a state of purchase, and further growth is only a matter of time.
Resistance levels: 4600.0, 5100.0.
Support levels: 4300.0, 3970.0.
Trading tips
After correctional growth or consolidation above the resistance line around 4600.0, buy positions with a target at 5100.0 and stop loss of 4300.0 will be relevant.
After decline or consolidation below the local minimum around 4300.0, sell positions with the target at 3970.0 will be relevant. Stop loss is above local support, around 4500.0.
Implementation period: 7 days or more.
Scenario
Timeframe

Weekly

Recommendation

BUY STOP

Entry Point

4600.0

Take Profit

5100.0

Stop Loss

4300.0

Key Levels

3970.0, 4300.0, 4600.0, 5100.0
Alternative scenario
Timeframe

Weekly

Recommendation

SELL STOP

Entry Point

4300.0

Take Profit

3970.0

Stop Loss

4500.0

Key Levels

3970.0, 4300.0, 4600.0, 5100.0