Apr 9, 2020, 9:22:11 AM
DJIA: general analysis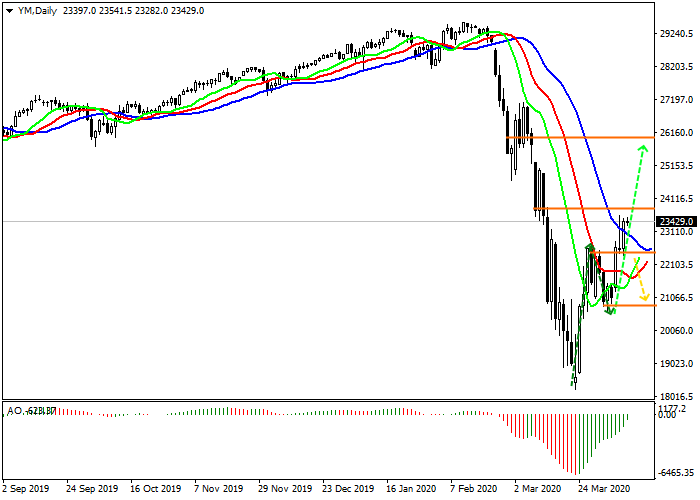 Current trend
Yesterday, the US Federal Reserve announced the launch of the FIMA Repo Facility mechanism, which will help ensure the smooth functioning of financial markets, including the US treasury market, and thus support the provision of loans to American households and enterprises. The decision will also allow account holders in the Federal Reserve Bank of New York (for example, central banks and other international monetary and financial institutions) to conclude buyout agreements with the US Federal Reserve. Foreign regulators temporarily exchange their Treasury securities held by the Fed for American currency, which can then be provided to institutions in their jurisdiction. This is another source of US dollars, different from selling securities on the open market. The FIMA Repo Facility mechanism was launched on April 6 and will be available within six months.
As a result of the introduction of additional measures, the leading indexes are trading upward, and the bulk of companies are growing. Among the gain leaders are UnitedHealth (+7.98%), Dow (+7.61%), Goldman Sachs (+6.59%) and ExxonMobil (+6.33%).
Support and resistance
Correctional growth continues within the classical 3-wave movement ABC and is at the stage of the wave C. The fast Alligator indicator EMAs have already reversed and crossed, and the AO oscillator histogram is approaching the zero line, ready to enter the buying zone.
Resistance levels: 23800.0, 26000.0.
Support levels: 22500.0, 20800.0.
Trading tips
After correctional growth, purchase positions that may be opened after the breakout of 23800.0 with the target at 26500.0 and stop loss of 23000.0 will be relevant.
After decline or consolidation below the local minimum around 22500.0, sell positions with the target at 20800.0 will be relevant. Stop loss is above the local resistance, around 23000.0.
Implementation period: 7 days or more.
Scenario
Timeframe

Weekly

Recommendation

BUY STOP

Entry Point

23800.0

Take Profit

26500.0

Stop Loss

23000.0

Key Levels

20800.0, 22500.0, 23800.0, 26000.0
Alternative scenario
Timeframe

Weekly

Recommendation

SELL STOP

Entry Point

22500.0

Take Profit

20800.0

Stop Loss

23000.0

Key Levels

20800.0, 22500.0, 23800.0, 26000.0