Apr 7, 2020, 9:11:00 AM
ASX 200: general review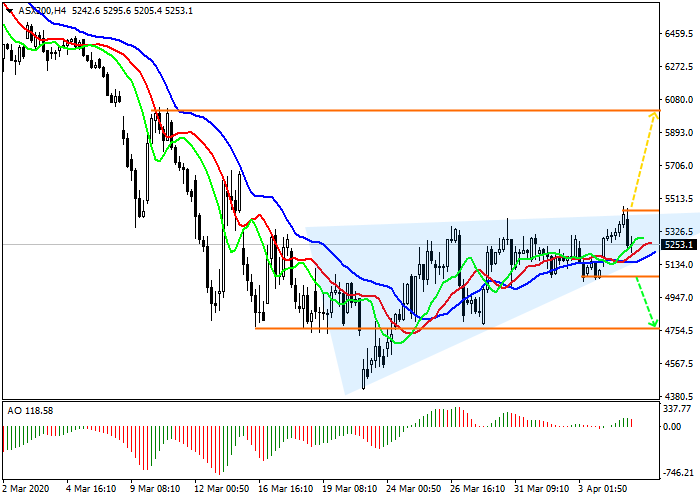 Current trend
The ASX 200 index shows ambiguous dynamics after the decision of the Reserve Bank of Australia to leave the rate on three-year bonds at 0.25% with a positive outlook. This decision was justified by the fact that the quantitative easing program runs according to the proposed scenario and there is no cause for concern.
Since the introduction of the target level, the Australian regulator has bought about 36 billion government bonds in the secondary markets, including territorial securities, but if the conditions continue to improve, the RBA sees an opportunity to cancel the measure or reduce the frequency of purchases.
Among the companies making up the index and leading in growth, the Flight Center (+11.87%), PolyNovo (+11.19%), Northern Star (+8.20%) stand out. Among the leaders of the decline are National Storage (–7.94%), Mayne Pharma (–7.81%) and Hub24 (–7.53%).
Support and resistance
Correctional growth on the index chart continues, and the movement resembles the Triangle pattern, within which the price is reflected from the resistance line and is directed downwards. Despite the fact that globally the indicators are in a state of purchase, the local signal may change for sale, since the AO histogram forms a bar with a downtrend, and fast EMAs on the Alligator indicator reverse downwards.
Resistance levels: 5450.0, 5900.0.
Support levels: 5050.0, 4750.0.
Trading tips
If the asset continues declining, and the price consolidates below the support line at 5050.0, sell positions can be opened with the target at 4750.0. Stop-loss – 5200.0.
If the asset reverses and continues corrective growth, and the price consolidates above the local resistance at 5450.0, purchase positions with a possible target at 5900.0 and stop-loss at 5250.0 will be relevant.
Implementation time: 7 days and more.
Scenario
Timeframe

Weekly

Recommendation

SELL STOP

Entry Point

5050.0

Take Profit

4750.0

Stop Loss

5200.0

Key Levels

4750.0, 5050.0, 5450.0, 5900.0
Alternative scenario
Timeframe

Weekly

Recommendation

BUY STOP

Entry Point

5450.0

Take Profit

5900.0

Stop Loss

5250.0

Key Levels

4750.0, 5050.0, 5450.0, 5900.0