Mar 26, 2020, 9:20:12 AM
FTSE 100: general review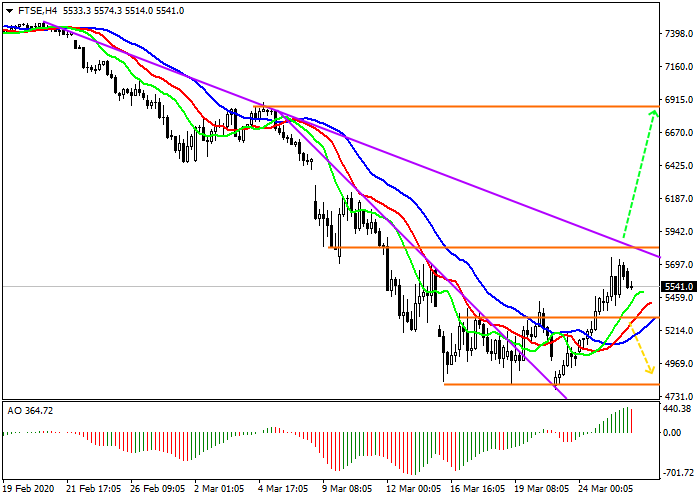 Current trend
The leading index of the British stock exchange FTSE 100 shows a moderate upward trend. Yesterday's growth of the instrument could be caused by a reaction to a positive macroeconomic report. In February, the Consumer Price Index rose to 0.4% MoM instead of the expected 0.3% MoM and remained unchanged at 1.7% YoY. The February Producer Price Index improved and amounted to –1.2% MoM compared to expectations of –2.0% MoM.
Among the growth leaders in the index are Legal & General (+16.16%), Persimmon (+15.28%), RBS PLC (+13.72%), Rolls-Royce (+13.40%), EasyJet (+12.21%). Among the companies showing a downward trend, Rentokil (–8.18%), Sberbank (–4.91%), Coca Cola HBS AG (–2.97%) are notable.
Support and resistance
The resistance line of the first stage of the downtrend has been broken, the resistance of the second stage is next. The Alligator indicator stays in a buy state, and the histogram of the AO oscillator is stably kept above the zero line in the purchase zone. In general, the prospects for the breakout of the resistance line around 5700.0 are quite high.
Resistance levels: 5800.0, 6800.0.
Support levels: 5300.0, 4800.0.
Trading tips
After correctional growth or consolidation above the resistance line of the second stage of the downtrend, around 5800.0, buy positions with a target at 6800.0 and stop loss below the support level at 5300.0 will be relevant.
After a decline or consolidation below local support at 5300.0, sell positions with the target at 4800.0 will be relevant. Stop loss is above local support, around 5600.0.
Implementation period: 7 days or more.
Scenario
Timeframe

Weekly

Recommendation

BUY STOP

Entry Point

5800.0

Take Profit

6800.0

Stop Loss

5300.0

Key Levels

4800.0, 5300.0, 5800.0, 6800.0
Alternative scenario
Timeframe

Weekly

Recommendation

SELL STOP

Entry Point

5300.0

Take Profit

4800.0

Stop Loss

5600.0

Key Levels

4800.0, 5300.0, 5800.0, 6800.0