May 22, 2020, 12:21:02 PM
USD/TRY: general review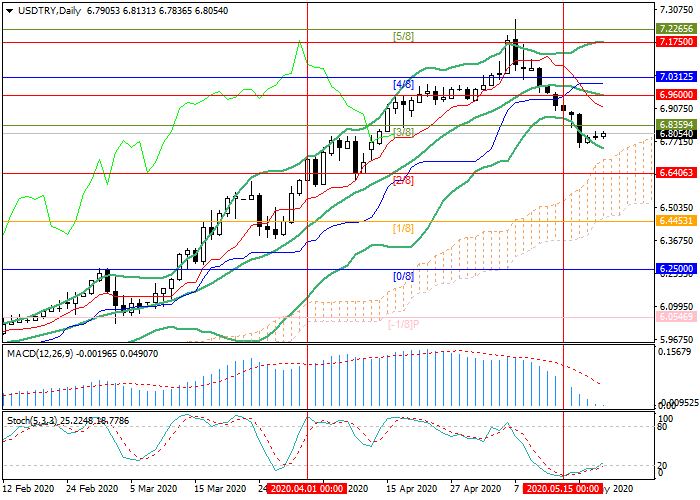 Current trend
At the beginning of the week, the USD/TRY pair fell to 6.7486 but then recovered moderately. Initially, USD was under pressure amid comments by Fed Chairman Jerome Powell, who said that the US economy could fall by 30% in the second quarter, its recovery would not be quick, and by the end of the year, it would not reach the pre-crisis level. However, after a series of steps of the Turkish Central Bank, TRY began to weaken. On Wednesday, the expanded the swap lines with Qatar from $5 to $15 billion, which will provide additional funds to support the economy. On Thursday, the regulator reduced the rate to 8.25%. Officials' comments were optimistic: in April and early May, the Turkish economy reached the minimum and may begin to recover. As the coronavirus undermined domestic demand, tourism, and exports, the bank lowered its forecast for inflation this year from 8.2% to 7.4% and may continue a gradual reduction in rates, which will put pressure on TRY.
Support and resistance
The price consolidated below 6.8359 (Murrey [3/8]) and may fall to 6.6406 (Murrey [2/8]). The key "bullish" level is 6.9600 (Bollinger bands' midline). The consolidation above it will let the rate grow to 7.1750 (Bollinger bands' upper border) and 7.2265 (Murrey [5/8]).
The downside potential is not exhausted since Bollinger bands reverse downwards, and MACD is ready to enter the negative zone, however, as Stochastic left the oversold zone, a correction is not excluded.
Resistance levels: 6.9600, 7.1750, 7.2265.
Support levels: 6.6406, 6.4453.
Trading tips
Short positions may be opened from the current level with the target at 6.4453 and stop loss 6.8970.
Long positions may be opened after consolidation above 6.9600 with the targets at 7.1750, 7.2265 and stop loss 6.8350.
Implementation period: 4–5 days.
Scenario
Timeframe

Weekly

Recommendation

SELL

Entry Point

6.8090

Take Profit

6.4453

Stop Loss

6.8970

Key Levels

6.4453, 6.6406, 6.9600, 7.1750, 7.2265
Alternative scenario
Timeframe

Weekly

Recommendation

BUY STOP

Entry Point

6.9605

Take Profit

7.1750, 7.2265

Stop Loss

6.8350

Key Levels

6.4453, 6.6406, 6.9600, 7.1750, 7.2265