The Home Depot Inc. (HD/NYSE): general review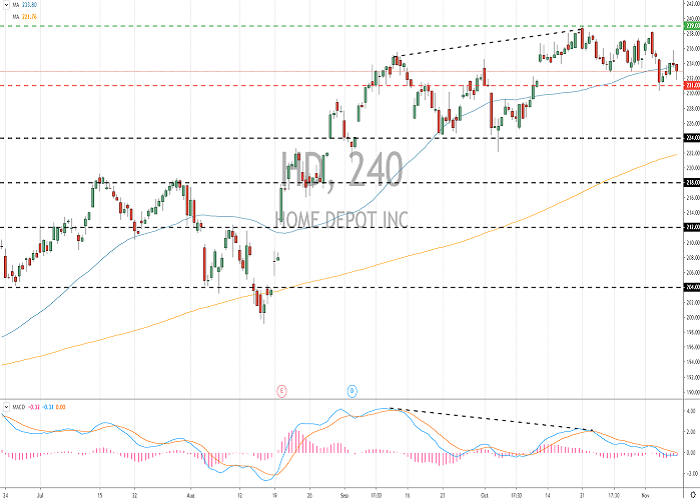 Current trend
In shares of The Home Depot there is a correctional decrease of 2.2% from a 52-week high of November 4. Over a three months, the emitter's quotes added 12% in value. The Home Depot announced the publication of financial results for Q4 of fiscal 2019 on November 19. The Wall Street predicts a slight increase in earnings per share by 0.4% (YoY) to USD 2.52 with revenue growth of 4.5% (YoY) to USD 27.48 billion.
During the previous week, the stock of The Home Depot dropped by 0.70%. S&P500 index went up by 1.56% during the same period.
Support and resistance
The company's shares have stabilized. No single direction tendencies are observed. Local support and resistance levels are at 231.00 and 239.00, respectively. In the near future, the correction of the company's shares after a protracted rally can not be excluded. A confirming signal is the classic reversal formation, price and MACD divergence. Currently indicators do not give any clear signal. Positions are to be opened from key levels.
Comparing the company's multiplier with its competitors, we can say that #HD shares are neutral.
Support levels: 231.00, 224.00, 218.00.
Resistance levels: 239.00.
Trading tips
If the price consolidates below the support level of 231.00, #HD shares may correct. Potential profits should be locked in by orders at 225.00, 220.00, and 215.00. Stop-loss – 237.00.
If the price consolidates above 239.00, one may consider buying #HD. The moving potential is aimed at the area of 250.00–255.00. Stop-loss – 233.00.
Implementation period: 3 days.
Scenario
Timeframe

Intraday

Recommendation

SELL STOP

Entry Point

231.00

Take Profit

225.00, 220.00, 215.00

Stop Loss

233.00, 237.00

Key Levels

218.00, 224.00, 231.00, 239.00
Alternative scenario
Timeframe

Intraday

Recommendation

BUY STOP

Entry Point

239.10

Take Profit

250.00, 255.00

Stop Loss

233.00

Key Levels

218.00, 224.00, 231.00, 239.00