Johnson&Johnson (JNJ/NYSE): general analysis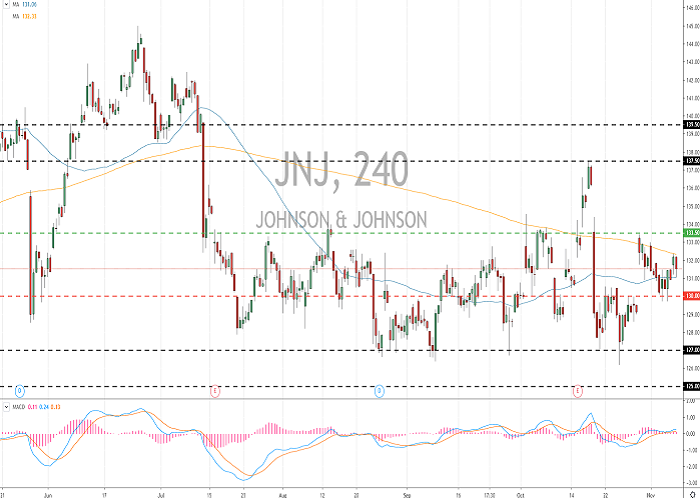 Current trend
Johnson&Johnson shares are trading at a 3.6% premium to a 10-month low of September 9, down from the end of October. The issuer's quotes fall from the December 52-week high exceeded 11.5%. The company lowered Q3 earnings per share to $0.66 from previously published earnings of $1.81 due to the proposed payment for the settlement of the opioid lawsuit.
Over the past week, Johnson&Johnson shares fell by 0.46%. Over the same period, the S&P 500 index grew by 1.56%.
Support and resistance
An ambiguous technical picture has developed in the company's shares. Currently, #JNJ quotes are consolidating. The issuer is testing key support and resistance levels: 130.00 and 133.50, respectively. There is a potential for decline. The indicators do not give accurate signals: the price crossed MA (50) and MA (200); the MACD histogram is near the zero line. It is better to open the positions from the key levels.
A comparative analysis of the multiples of the company and competing companies in the industry indicates the neutrality of #JNJ.
Resistance levels: 133.50, 137.50, 139.50.
Support levels: 130.00, 127.00, 125.00.
Trading tips
Short positions may be opened after the price consolidates below the level of 130.00. The closing of the profitable positions is possible at the levels of 127.50, 125.00 and 123.00. Stop loss – 132.50.
Long positions may be opened after the price consolidates above the level of 133.50 with the targets at 138.00–140.00. Stop loss – 131.00.
Implementation period: 3 days.
Scenario
Timeframe

Intraday

Recommendation

SELL STOP

Entry Point

130.00

Take Profit

127.50, 125.00, 123.00

Stop Loss

130.85, 132.50

Key Levels

125.00, 127.00, 130.00, 133.50, 137.50, 139.50
Alternative scenario
Timeframe

Intraday

Recommendation

BUY STOP

Entry Point

133.55

Take Profit

138.00, 140.00

Stop Loss

131.00

Key Levels

125.00, 127.00, 130.00, 133.50, 137.50, 139.50