Starbucks Corp. (SBUX/NASD): general analysis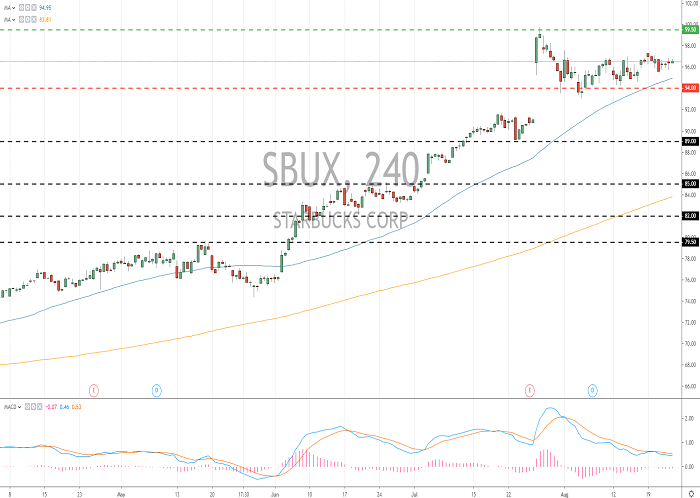 Current trend
In the second half of August, the Starbucks stocks grew slightly and is currently trading at a 2.7% discount to the 52-week high of July 26th. Since the beginning of the year, the instrument has risen by 50% with the support of strong growth in comparable sales in the USA and China over the past two quarters, as well as initiatives to digitalize and expand the loyalty program. In addition, the company plans to increase its presence in China to 3,000 stores by the end of 2019.
Over the past week, Starbucks shares have risen 1.00%. The S&P 500 index increased by 2.64% for the same period.
Support and resistance
The issuer continues to consolidate. There is no unidirectional trend observed. The local support and resistance levels are 94.00 and 99.50, respectively. In the near future, technical correction of quotes is not excluded. The signals of the indicators differ: the price fixed above MA (50) and MA (200); MACD shows a negative trend. It is better to open positions from key levels.
A comparative analysis of the multiples of the company and competing companies indicates the neutrality of the instrument.
Resistance levels: 99.50.
Support levels: 94.00, 89.00, 85.00.
Trading tips
Long positions can be opened after the price consolidates above the level of 99.50. The closing of the profitable positions is possible at the levels of 104.00, 108.00 and 112.00. Stop loss is 95.00.
Short positions can be opened after the price consolidates below the level of 94.00 with the targets at 87.00–84.00. Stop loss is 98.00.
Implementation period: 3 days.
Scenario
Timeframe

Intraday

Recommendation

BUY STOP

Entry Point

99.50

Take Profit

104.00, 108.00, 112.00

Stop Loss

98.00, 95.00

Key Levels

85.00, 89.00, 94.00, 99.50
Alternative scenario
Timeframe

Intraday

Recommendation

SELL STOP

Entry Point

93.90

Take Profit

87.00, 84.00

Stop Loss

98.00

Key Levels

85.00, 89.00, 94.00, 99.50