USD/JPY: general review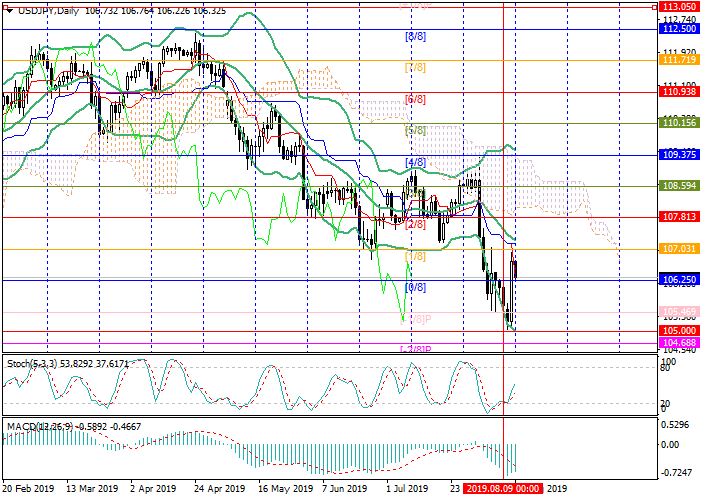 Current trend
Yesterday, the pair USD/JPY was sharply corrected upward amid the release of strong US inflation data. In July, CPI increased from 1.6% to 1.8%, while Core CPI rose from 2.1% to 2.2% due to the cost of higher prices for gasoline and housing. Quotations were supported by the US administration's intention to postpone the introduction of 10% percent duties on part of Chinese exports from September 1 to December 15.
Today, JPY grows after the release of strong Japanese Machinery Orders and poor Chinese Industrial Production data. In June, Machinery Orders grew by 13.9%, which is the best indicator since 2016 and reflect an expansion of investment in production. The main orders came from manufacturers of non-ferrous metallurgy and transport equipment. Also, JPY growth as shelter asset is facilitated by poor data on the volume of July Industrial Production in China, which slowed down more than the market expected from 6.3% to 4.8%.
Support and resistance
The price is stuck between the key levels of 106.25 (Murrey [0/8]) and 107.03 (Murrey [1/8], Bollinger bands' midline). The consolidation below 106.25 will let it fall to 105.46 (Murrey [–1/8]), 105.00. Consolidation above 107.03 will let it grow to 107.81 (Murrey [2/8]), 108.59 (Murrey [3/8]), 109.37 (Murrey [4/8], Bollinger bands' upper border).
Technical indicators do not give a clear signal. A downward reversal of Bollinger bands indicates a downtrend, however, Stochastic is upward, and MACD falls in the negative zone.
Resistance levels: 107.03, 107.81, 108.59, 109.37.
Support levels: 106.25, 105.46, 105.00.
Trading tips
Short positions can be opened below 106.25 with the targets at 105.46, 105.00 and stop loss 106.70.
Long positions can be opened above 107.03 with the targets at 107.81, 108.59, 109.37 and stop loss 106.50.
Implementation period: 4–5 days.
Scenario
Timeframe

Intraday

Recommendation

SELL

Entry Point

106.20

Take Profit

105.46, 105.00

Stop Loss

106.70

Key Levels

105.00, 105.46, 106.25, 107.03, 107.81, 108.59, 109.37
Alternative scenario
Timeframe

Intraday

Recommendation

BUY STOP

Entry Point

107.10

Take Profit

107.81, 108.59, 109.37

Stop Loss

106.50

Key Levels

105.00, 105.46, 106.25, 107.03, 107.81, 108.59, 109.37