United Technologies Corp. (UTX/NYSE): general analysis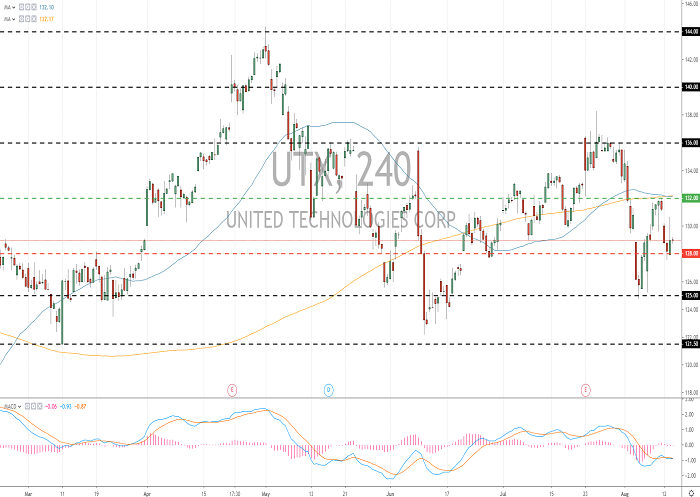 Current trend
In the first half of August, United Technologies shares decline, and now, the issuer's quotes are trading with a premium of 2.7% to the month's minimum and with a premium of 4.9% to the June's 5-month minimum. Strong quarterly results above market expectations were published previously. The company also raised its forecast for 2019, expecting organic sales growth of 4–5% with revenue of 75.5–77.0 billion US dollars and an increase in earnings per share to 7.90–8.05 US dollars.
Over the past week, United Technologies shares rose by 0.12%. Over the same period, the S&P 500 index gained 1.55%.
Support and resistance
An ambiguous technical picture has developed in the company's shares. #UTX quotes are currently consolidating. The issuer is testing local support and resistance levels of 128.00 and 132.00, respectively. There is a potential for decline. The indicators do not give accurate signals: MA (50) crossed MA (200); the MACD histogram is near the zero line. It is better to open positions from the key levels.
A comparative analysis of the multiples of the company and competing companies in the industry indicates that #UTX is underpriced.
Resistance levels: 132.00, 136.00, 140.00.
Support levels: 128.00, 125.00, 121.50.
Trading tips
Short positions can be opened after the price consolidates below the level of 128.00. The closing of the profitable positions is possible at the levels of 124.00, 120.00, and 117.00. Stop loss is 132.00.
Long positions can be opened after the price consolidates above the level of 132.00 with the targets at 139.00–143.00. Stop loss is 128.00.
Implementation period: 3 days.
Scenario
Timeframe

Intraday

Recommendation

SELL

Entry Point

128.02

Take Profit

124.00, 120.00, 117.00

Stop Loss

132.00

Key Levels

121.50, 125.00, 128.00, 132.00, 136.00, 140.00
Alternative scenario
Timeframe

Intraday

Recommendation

BUY STOP

Entry Point

132.10

Take Profit

139.00, 143.00

Stop Loss

128.00

Key Levels

121.50, 125.00, 128.00, 132.00, 136.00, 140.00